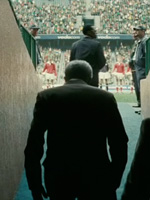 Apple has exclusively debuted the first trailer for Clint Eastwood's "Invictus," and when you get around the initial akward shock of Morgan Freeman's accent, work around the oddly structured but still somehow streamlined nature of the trailer, read the writing on the wall, etc., I think it becomes clear pretty quick what we all, rightly or wrongly, have assumed sight-unseen since day one: this looks like a bona fide Oscar contender.
I've been wondering aloud lately whether the film's message of healing a nation's wounds after extended political turmoil might not be more resonant now than we might think.  The story delicately reflects the zeitgeist in some way.  It looks to be one of the more traditional entries of the lot, which could make it a safe haven of sorts for the Academy.
And in any case, it certainly looks to pack an emotional wallop.  Tough to argue with that stuff convincingly, but then again, maybe the "Gran Torino" snub meant more than we thought.  Maybe Clint is becoming old hat.  I doubt it, though.
Anyway, head on over to Apple and see the trailer for yourself, or check out the embed after the jump.
Related Posts