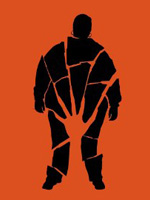 Ever since (and before) I mentioned in print that, for my money, "Precious" is the frotrunner of this year's Oscar race, I've been trying to understand why.  After all, it's hardly your typical ahead-of-the-pack favorite.
Over at The Hollywood Reporter, Steven Zeitchik takes note of the emotional split that is slowly characterizing this year's slate of Oscar contenders and, in the process, begins to offer some insight, I think, into this conundrum:
With the widened field, there's a wider split between the feel-good contenders and the downbeat ones, between movies that depict the world as it is and those that show the world as we wish it to be.

Voters, for instance, will have to choose between the story of an inner-city girl whose stepfather has repeatedly raped her and an old man who takes a magical, life-affirming balloon ride. They'll have to decide between a group of male bomb-defusers drawn to the nightmare of the battlefield and a group of male friends drawn hilariously to the escapism of Vegas.
Zeitchik then goes on to reduce things even further by noting that a vote for darker, grittier fare could be a vote in favor of specialty divisions that have been shuttered as of late.  After all, the majority of those films "celebrating life's aspirational side," as Zeitchik puts it, were developed and released through major studios.
It's an interesting perspective, to be sure.  Or it could be a stretch.  What do you think?