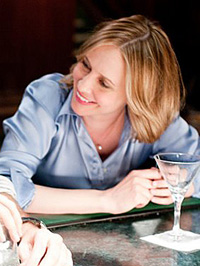 A few weeks ago in this space I took a dedicated look at the lead actress category.  With little in the way of actual development (this season is curiously divided on the timeline as we've got maybe another month before more major titles begin screening), I figured it would be a good idea to keep things going on that front and take a look at the supporting actress race.
It's a little difficult to ignore the fact that Mo'Nique stands way out ahead of the pack in this race for her work in "Precious." Unless her reported behind-the-scenes drama-queen tactics somehow poison the cause, she should be holding a statue in four months' time.  She is fierce and focused in a monstrous role and when viewers get over the initial "she had this in her?" shock, they'll also see it for the expert piece of acting that it is.
Mo'Nique is joined in her film, however, by what I'd call an awards-worthy turn from Mariah Carey.  The singer-turned-actress has been lurking in Mo'Nique's shadow throughout the film's publicity and festival tour this year, and she also lost something of a diva battle with Mary J. Blige to have a featured track in the film.  The poor girl can't catch a break here, but I think she deserves a look from voters and, perhaps, even prognosticators.
A few weeks ago I mentioned in an episode of Oscar Talk that "Up in the Air" star Vera Farmiga would be pushed as a lead actress.  Some things have changed.
When Jason Reitman's film first screened in Telluride, and later at Toronto, the early buzz was, of course, exceptional.  But many seemed to be torn on the female performances surrounding lead actor George Clooney.
For instance, I thought Farmiga offered the more interesting, detailed work, but I felt Anna Kendrick was definitely the best bet for a supporting actress nomination.  She has spunk and pops on the screen in a way that stands out above the relatively more restrained Farmiga.
Paramount attempted to shift gears on Farmiga's push because a number of critics have responded more to Farmiga and Clooney in tandem than they have Clooney as a stand-alone lead.  (That's considerably different than my take, one of the two supporting ladies offering a reflection of the lead character's choices and thereby offering more insight into Clooney's role.)  Some have even drawn comparisons to classic on-screen pairs like Cary Grant and Rosalind Russell or Humphrey Bogart and Lauren Bacall.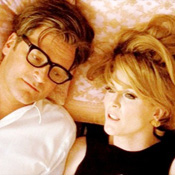 However, Farmiga's personal representation wasn't having it, perhaps noting the up-hill climb that a lead nod would have been.  I'm sure the studio would have liked to cast that wide net and have a shot in three acting categories, but as it is, Farmiga and Kendrick will be going head-to-head in supporting.  I'm banking on the latter, but Farmiga's chemistry with Clooney is unmistakable.  Maybe both can slide in, because this field isn't as deep as it could be.
Julianne Moore has limited screen time in "A Single Man," but she makes the most of it (as of course she would), particularly coming to life in an extended scene with Colin Firth that plays like a master class in acting off of your co-star.  And truthfully, I don't think Moore has so fully immersed herself in a character since "Far From Heaven."
As reported here a number of weeks ago, Marion Cotillard will be pushed as a lead in Rob Marshall's "Nine," but the actress has a shot at the supporting field if Universal wants to drum up a big campaign for "Public Enemies." Her work quickly became one of the most agreeable aspects even among detractors of the film.  But her "Nine" co-stars will be all over this category, making for some healthy competition.
I'm told the stand-out supporting turns come from Judi Dench and, most especially, Penelope Cruz.  Maybe there will be some lingering support for Nicole Kidman, Kate Hudson, Sophia Loren, etc., but these are the two ladies you should be keeping an eye on.  And two supporting actresses for one film is certainly not uncommon.
That's what I'd call the top tier of this category, but there are a number of other performances with their own champions, like Mélanie Laurent in "Inglourious Basterds," the film's truest hero (make that heroine).  Of course, I remain skeptical of the film's chances in the major categories, so I'm not buying here, but she has her fans.
Samantha Morton doesn't offer the best performance of "The Messenger" (I'd give that designation to Woody Harrelson), but she nails the troubled widow template and lifts the potentially trite role off the page in an authentic, emotional way.  It'll be difficult for Oscilloscope to compete with the big dogs, but it's a fringe possibility to watch out for.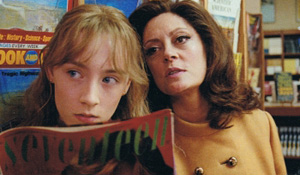 One performance that could leap into contention real fast is Susan Sarandon in "The Lovely Bones," a performance that I'm told is more robust now, additional scenes and footage having been added after early screenings left viewers wanting more of her.  She will be competing with co-star Rachel Weisz for a look in this field, but it appears Sarandon might have the upper hand.
There are straggler vote-siphoners lurking, like Charlize Theron in "The Road," for instance, or Sari Lennick in "A Serious Man." Emma Thompson actually gives a wonderful under-the-radar performance in "An Education" that deserves some recognition (and might just get it in some quarters).  Ditto Rosamund Pike, also quite good int he film.  And perhaps there is some substance to Sigourney Weaver's work in "Avatar," perhaps not.  We'll have to wait and see.  But there isn't much else worth wading into here.  The supporting actress field is remarkably streamlined and it's not even November.
Anyway, those are my thoughts.  The Contenders section has been tweaked.  The sidebar predictions have been updated.
What do you think of the supporting actress race this year?  Have your say int he comments section below.
(By the way, I received my first email of complaint regarding the discontinued charts feature here at the site, which was explained a few weeks back.  If there are similar gripes, please let me know.  I'm curious to hear everyone's thoughts.)