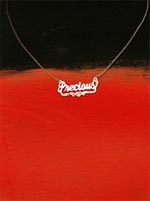 At this early stage in the awards race, I've been getting along unusually well with every major contender I've encountered: "The Hurt Locker," "An Education," "Up in the Air," along with darker horses like "Bright Star" and "A Single Man," have all been pleasing, giving me hope that this would be one of those rare Oscar years when I could contentedly roll with any outcome.
Something had to break, I suppose. And it's with not a little regret that I write this, but it broke this afternoon as I finally encountered Lee Daniels's much-vaunted "Precious" for the first time.
I understand and respect what has moved the critical majority so profoundly about this abrasive, eccentric film. It visits such extremities of physical and psychic pain that it does invite a kind of emotional responsibility towards its protagonist; if Daniels did have as heavy a creative hand in "Monster's Ball" as he claims, one could draw an interesting comparison between the two films' almost mythic excesses of female suffering.
But as nobly as Daniels' fearsomely committed cast reaches for our sympathies, I found myself turned off by the garish and occasionally condescending methods by which the frantically over-directed film around them does the same. Subtlety is not Daniels' modus operandi, which would be fine if the film didn't so often get its cultural and ideological lines crossed, and didn't meander so  haphazardly between Precious's own perspective and that of a more worldly third person.
For example, the film's running motif of fantasy cutaways which provocatively illustrate the title character's diminished self-image — either BET-style music video sequences in which she makes out with a much-prized "light-skinned boyfriend" or a quieter scene where she stands before the mirror and make-believes a skinny white blonde staring back at her — raise fascinating questions of cultural stereotyping and auto-racism that Precious critically isn't asking of herself, but later ducks out of addressing them by reverting to the less heightened perspective and more practical concerns of her everyday life.
This line of exploration is intelligently conceived if incompletely realized, but the film completely loses its marbles in a comic sequence in which Precious's miserable domestic life is played as an Italian neorealist pastiche; BET send-ups are one thing, but to parody (however earnestly) the protagonist's troubles via a cultural reference that elitist, that far removed from her own experience and education, is a cruelly high-minded trick. (Even that, however, is more defensible than the irredeemably crass shot wherein Daniels positions the heavily pregnant Precious in front of a billboard promoting animal neutering. Ick.)
Such obnoxious missteps are all the more vexing because the film is warm and affecting when it abandons such clever-clever editorializing and just lets its characters speak: there's a garrulous spontaneity to the classroom sequences where Precious bonds with other hard-luck women at an alternative education facility, though the film only narrowly skirts artier "Dangerous Minds" territory with Paula Patton's progressive, halo-crowned teacher.
Perhaps inevitably, given these wild tonal lurches, the characterization of Precious herself wavers between the stonily unquestioning and the bitingly self-aware, though Gabourey Sidibe is a sufficiently empathetic presence to mostly smooth over these inconsistencies.
Meanwhile, the abundance of praise for Mo'Nique's performance as Mary, Precious's rampantly abusive mother, is by no means misplaced. A veritable hurricane in an already busy movie, her early rancorous rants against her daughter are impressive but have a faint air of actorly exercise to them; the peformance really opens up in the justly lauded confessional of her (and the film's) final scene, where she furiously reveals the roots of her own mental illness without once stooping to victimhood.
It's a startling scene, though it proves an imbalanced conclusion to an already muddled film: this may be Precious's underdog narrative, but I left the theater with the peculiar sense that it was Mary — and, of course, Mo'Nique — who had won. "Precious" is an appropriately difficult pill to swallow, but I'm struggling with the aftertaste.