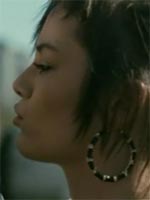 You've heard me natter on enough for months about how "Fish Tank" is one of the year's best films — now you don't have to just hear it from me anymore.
Andrea Arnold's lyrical character study of an unhappy Essex teenager (now being dubbed 'the British "Precious"' by some lazy wags) leads the nominations for the British Independent Film Awards, with mentions in a whopping eight categories, including two for 18 year-old sensation Katie Jarvis.
Once a very niche Transatlantic equivalent to the Indie Spirits, the BIFA Awards are gaining in profile every year, painting a far more revealing picture of the state of the UK film industry than the Oscar-toadying BAFTAs.
They're also naming more contenders who go on to feature heavily in awards season: "Slumdog Millionaire" was the belle of last year's BIFA ball, while this year's major crossover nominee promises to be "An Education."
(More discussion, and a full list of nominees, after the cut.)

Lone Scherfig's Oscar heavyweight managed six nods — including, I'm thrilled to say, the Best Supporting Actress mention for Rosamund Pike that I've been calling for. Many readers of these pages will also be pleased to see a healthy showing for "Moon," which shows up in an impressive seven categories — including Best Actor for Sam Rockwell. (Not quite the coup that Twitter campaign is aiming for, but a nice acknowledgement all the same.)
Rounding out the Best Film category are critics' darling "In the Loop" and Sam Taylor-Wood's John Lennon biopic "Nowhere Boy," which premieres at the London Film Festival on Thursday. (Taylor-Wood had an especially good day, also landing a Best Short Film nod for "Love You More," while her young leading man and off-screen partner, Aaron Johnson, finds himself in the running for Best Actor.) "Bright Star," meanwhile, missed out in the top race, but nonetheless scored four nods including Best Director and Best Actress.
The real story of this year's BIFA nods, however, is how neatly they support the ongoing narrative of 2009 being the "year of the woman." Three of the five Best Director nominees — Campion, Arnold and Scherfig — are women, while a further two female filmmakers (Taylor-Wood and actress-turned-director Samantha Morton) are in the running for the Best Debut Director prize. That's an exciting state of affairs.
Indeed, there's much to celebrate in this year's list of nominees, from Tom Hardy's well-earned Best Actor nod for "Bronson" to the Best Foreign Film mentions for "Il Divo" and "The Hurt Locker" to a rock-solid slate of technical honorees. (The only real blunder I can pick up on is an autopilot Best Actress nod for Emily Blunt.) Beat that, BAFTA. The ceremony takes place on December 6.
BEST BRITISH INDEPENDENT FILM
"An Education"
"Fish Tank"
"In The Loop"
"Moon"
"Nowhere Boy"
BEST DIRECTOR
Andrea Arnold, "Fish Tank"
Armando Iannucci, "In The Loop"
Duncan Jones, "Moon"
Jane Campion, "Bright Star"
Lone Scherfig, "An Education"
THE DOUGLAS HICKOX AWARD [BEST DEBUT DIRECTOR]
Armando Iannucci, "In The Loop"
Duncan Jones, "Moon"
Peter Strickland, "Katalin Varga"
Sam Taylor-Wood, "Nowhere Boy"
Samantha Morton, "The Unloved"
BEST SCREENPLAY
Nick Hornby, "An Education"
Andrea Arnold, "Fish Tank"
Jesse Armstrong, Simon Blackwell, Armando Iannucci, Tony Roche, "In The Loop"
Nathan Parker, "Moon"
Matt Greenhalgh, "Nowhere Boy"
BEST ACTRESS
Emily Blunt, "The Young Victoria"
Abbie Cornish, "Bright Star"
Katie Jarvis, "Fish Tank"
Carey Mulligan, "An Education"
Sophie Okonedo, "Skin"
BEST ACTOR
Peter Capaldi, "In The Loop"
Tom Hardy, "Bronson"
Aaron Johnson, "Nowhere Boy"
Sam Rockwell, "Moon"
Andy Serkis, "Sex & Drugs & Rock & Roll"
BEST SUPPORTING ACTRESS
Anne-Marie Duff, "Nowhere Boy"
Kerry Fox, "Bright Star"
Rosamund Pike, "An Education"
Kristin Scott Thomas, "Nowhere Boy"
Kierston Wareing, "Fish Tank"
BEST SUPPORTING ACTOR
Jim Broadbent, "The Damned United"
Michael Fassbender, "Fish Tank"
John Henshaw, "Looking For Eric"
Tom Hollander, "In The Loop"
Alfred Molina, "An Education"
MOST PROMISING NEWCOMER
Edward Hogg, "White Lightnin'"
Katie Jarvis, "Fish Tank"
George MacKay, "The Boys Are Back"
Christian McKay, "Me & Orson Welles"
Hilda Péter, "Katalin Varga"
BEST FOREIGN FILM
"Il Divo"
"The Hurt Locker"
"Let The Right One In"
"Sin Nombre"
"The Wrestler"
BEST DOCUMENTARY
"The Age of Stupid"
"The End of The Line"
"Mugabe and The White African"
"Sons of Cuba"
"Sounds Like Teen Spirit"
BEST TECHNICAL ACHIEVEMENT
Greig Fraser, cinematographer, "Bright Star"
Gary Williamson, production designer, "Bunny & The Bull"
Robbie Ryan, cinematographer, "Fish Tank"
Clint Mansell, composer, "Moon"
Tony Noble, production designer, "Moon"
BEST BRITISH SHORT
"Christmas with Dad"
"Leaving"
"Love You More"
"Sidney Turtlebaum"
"Washdays"
BEST ACHIEVEMENT IN PRODUCTION
"Bronson"
"Bunny & The Bull"
"The Hide"
"The Imaginarium of Doctor Parnassus"
"Katalin Varga"
RAINDANCE AWARD
"Colin"
"The Disappearance of Alice Creed"
"Down Terrace"
"Exam"
"They Call It Acid"
THE RICHARD HARRIS AWARD (outstanding contribution to British film)
Daniel Day-Lewis