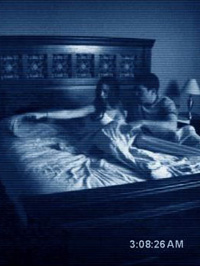 Four weeks after opening on 12 screens with only midnight shows, "Paranormal Activity" has topped the box office and made mincemeat out of the "Saw" series. Paramount's no-budget thriller earned $22 million this weekend on 1,945 screens and saw its total stretch past $60 million.
This type of ascent to the summit hasn't been seen since "My Big Fat Greek Wedding" in 2002 and with at least one more lucrative weekend over Halloween, the film has surely etched its name in the record books as one of the most profitable of all time. Congratulations to everyone involved and thanks for making it look so easy, you jerks!
Second place goes to "Saw VI," which earned a rough $14.8 million. This is easily the lowest debut of the franchise and is less than half of what "Saw V" pulled in last year. The films are undoubtedly cheap to produce so it may not mean that "Saw VII" is off the table, but some significant changes will have to be made. And they will probably be made in 3D. Obviously, the innovation of "Paranormal Activity" just made a sixth helping of Jigsaw's puzzle murders seem a little stupid.
"Where the Wild Things Are" fell a troubling 56%, which wasn't entirely unexpected after it was revealed that only 29% of the opening weekend audience was parents with children. This was more of a fanboy title and the mixed reception dictated the decline. But with $54 million already in the bank, execs at Warner Bros. can't be too worried about it and perhaps this success means that a few puppeteers can get out of the unemployment line for a while in Hollywood.
"Law Abiding Citizen" held strong with a 40% drop to $12.7 million and continues to monopolize the Dad crowd. This is the figure I thought it would debut with, so obviously Overture has exceeded expectations and it's another victory for vigilante justice. I hope this starts a trend of films being titled exactly the opposite of what they are about. "Where the Wild Things Aren't." "Normal Activity." "Michael Jackson: More to Come." Who's with me?
Is there any reason to talk about "Astro Boy" or "Cirque du Freak: The Vampire's Assistant?" Both debuted in the $6-$7 million range and neither connected with its target audience, which were kids and teens respectively. The former might have some legs but the latter will have to drive a stake through the heart of plans to adapt any of the other 11 books in the series. I hope it didn't have an open ending.
That's it. Oh, wait. Didn't some Oscar movie come out to general disdain? I think it did but I don't see it in the top 10.
Poor "Amelia" got lost flying over the radars of most of America and earned a tepid $4 million from 818 screens. The savage critical reception already did the Oscar damage but this result will serve as the nail in the coffin and stain the reputation of Fox Searchlight a little. I mean, the studio also released "Miss March" and "Post Grad," but this one was meant to be something that it clearly failed to become.
"A Serious Man" and "An Education" continued to slowly and successfully expand, while "Antichrist" made the biggest new impression on the art house scene. It's nt enough for Charlotte Gainsbourg to begin to feature in Oscar discussions though, I don't think.
This week, I was entertaining a guest and then working out of town so I've got no movies to report on. I can't wait to get back and check out "Antichrist," though.
Next week gives us one movie and one movie only: "Michael Jackson's This is It," opening on Wednesday. Sony picked up the rights to this sucker for $60 million and some scoffed. No one is scoffing now as pre-sales have set records everywhere and you can expect one of the biggest opening days of the year.
Where it goes from there is a huge question mark. I think $40 million on Wednesday isn't out of the question and somewhere around $100 million for the five-day period. But with no precedent to look to, that could feasibly be more like $50 million or $150 million. Two things I know for sure: It will be bigger overseas than here in the States and I will be there opening night. How about you?
Here are the weekend's top domestic grossers, courtesy of Exhibitor Relations: