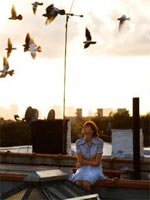 Not my most successful day at the London Film Festival today, as a communication error kept me out of the fest's final "Samson and Delilah" screening — vexing partly because it leaves a significant gap in the collective review I had planned to do of multiple foreign Oscar contenders next week, but more simply because it was one of my most anticipated films of the festival. Can't win 'em all, I suppose.
Meanwhile, the Surprise Film screening, usually my favorite night of the festival, proved slightly anti-climactic for yours truly as the selection turned out to be Michael Moore's "Capitalism: A Love Story" — a respectable enough choice on fest director Sandra Hebron's part, but a film I'd already dug into at Venice. (Meanwhile, it marks the first time in four years that I hadn't correctly anticipated the 'surprise.')
In keeping with the theme of the day, then, I thought this as good a time as any to briefly round up five of the fest's more disappointing efforts so far.
"The Exploding Girl" (*)
I have a higher tolerance than some for the self-indulgence of mumblecore, provided the conversational circles drawn by its American Apparel-clothed inhabitants occasionally collide with some semblance of human truth or observation. Such is not the case with the cinematic vacuum that is "The Exploding Girl," which traces the non-romance between the world's two most joyless college students on summer break in languid detail, but fatally adopts its protagonists' emotional inarticulacy as its own. There are some admirers of this catatonic collection of moony gazes and monosyllabic exchanges ("gruntlecore" would be a more apt description), but has neither the wit nor the commitment to make 'nothing' a viable topic of conversation.
"44 Inch Chest" (*1/2)
The cache of the writers behind "Sexy Beast" is presumably what drew the year's most formidable male ensemble – Ray Winstone, Tom Wilkinson, John Hurt, Ian McShane, Stephen Dillane – to debut director Malcolm Venville's woefully thin chamber piece masquerading as a Ritchie-lite gangster lark. They certainly can't have read the script, weirdly stagebound even as it was written directly for the screen, in which Winstone's discovery of his wife's infidelity (and his pals' subsequent roughing-up of the other man) serves as the flat springboard for GQ-level observations on male sexuality and more than one "it was all a dream" plot turn. It comes alive precisely once, with a genuinely funny scene of Winstone's morosely miming to Nilsson's "Without You" – conveniently enough, it's over the opening credits.
"Don't Worry About Me" (*1/2)
Another dreary Brit effort, this one marking the directorial debut of actor David Morrissey, the over-confidently titled "Don't Worry About Me" actually is derived from a stage play – and the checklist-style usage of assorted well-known Liverpool landmarks screams of ham-handed 'opening-up' efforts – but its cutesy dialogue reversals and neat regional stereotypes seem to have their true aesthetic roots in British sitcom. Aiming for "Before Sunrise"-style lyricism in its single-day snapshot of the meeting-'n-mating of a cocky London geezer and a gold-hearted Scouse shopgirl, the film falls embarrassingly short of the visual panache and tonal delicacy required to make its micro-story fly. Helen Elizabeth and James Brough are genial enough as the lovers to keep us from nodding off completely; that said, they're also responsible for writing this marshmallow movie.
"The Girl on the Train" (**)
A valiant narrative experiment, but nonetheless a major disappointment from French veteran Andre Téchiné, "The Girl on the Train" recalls nothing so much as those party-game stories blindly written one sentence at a time by different participants. Based on an intriguing true-life incident wherein a disaffected young gentile woman (a sullenly accomplished Emilie Dequenne) faked a neo-Nazi attack on herself, prompting a bogus media storm in the process, the film dallies around this anecdote with numerous tangentially related subplots, the most disconnected (and disengaging) of which relate to her Jewish lawyer's own family squabbles. Amid an enviable ensemble that includes an unusually docile Catherine Deneuve, only the excellent Nicolas Duvauchelle, as Dequenne's shyster boyfriend, finds room to breathe amid the film's dense thematics and tonal lurches.
"Bluebeard" (**)
In her short story"The Bloody Chamber," Angela Carter ingeniously rewrote Perrault's classic fairytale "Bluebeard" as an investigation of female sexuality and social boundaries. Catherine Breillat attempts exactly the same trick in her latest film, though with the self-imposed challenge of no overt sexual content, a perverse handicap for a filmmaker famed for her forthrightness in that department. The resulting film is neither fish nor fowl: it's not provocative enough to succeed as tract, but its fantasy world — with self-consciously chintzy production values — isn't immersive enough to succeed as anything else. Breillat further clouds the picture with a framing device of two modern-day girls reading the fairytale, intended as a reflection on the nature of storytelling — more intriguing than the narrative at hand, it nonetheless has no bearing on the film's principal thematic agenda.
Not quite the catch-up I had planned to do over the weekend, but a small part of the way there. And if that read all a little too sour, rest assured I've seen plenty of films due a more positive assessment, including the searing South African character study "Shirley Adams," and delightful Irish doc "His & Hers."
With four festival days left, "Nowhere Boy," "Glorious 39" and "A Serious Man" are the remaining major gala screenings, while I plan to catch up with the likes of (finally) "Precious," "City of Life and Death," "Vincere" and "Cracks," the well-buzzed debut of Jordan Scott (daughter of Ridley). More to come.