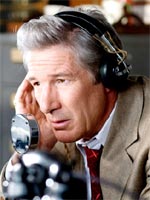 • The Academy finally named the producers for next year's Oscar telecast, first-timers Adam Shankman and Bill Mechanic.
• All of which added weight to the speculation that Hugh Jackman might return as host.
• The Gotham Awards provided the season with its first set of nominees, though it inspired more talk for its omissions.
• Chief among those omissions: "Precious," prompting talk of a backlash, despite generous media exposure positioning it as the one to beat.
• Meanwhile, the season saw its first prestige turkey, as "Amelia" lived up (or down, rather) to ominous advance word.
• Continuing a banner year for Pixar, John Lasseter will receive the PGA's highest career honor, the Selznick Award.
• Capturing a healthy crossover audience, "Where the Wild Things Are" ruled the box office this week.
• As Off the Carpet took a breather, this week's Long Shot column reflected on the changing formula of the "Oscar movie."
• The London Film Festival continued, as we finally caught up with Palme d'Or winner "The White Ribbon."
• As "An Education" blooms, we considered a range of Oscar opportunities for the film, including a strong bid for Best Original Song.
• Not among them: Best Visual Effects, which formed the focus of this week's edition of Tech Support.
• With no one else campaigning for Sam Rockwell in "Moon," director Duncan Jones took matters into his own hands.
• Speaking of under-the-radar performances, we chatted to "Trucker" star Michelle Monaghan.
• And continued our new year-by-year series with a discussion of the most noteworthy performances of 1997.
• Amid all this, however, it was the topic of  Jennifer Aniston's thesping skills that generated the most discussion among you guys.