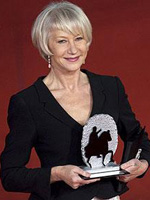 Ever since "The Last Station" entered the Oscar race with a Sony Classics acquisition, I've been saying Helen Mirren is a sure-fire contender for a lead actress nomination as the fiery Countess wife to Christopher Plummer's Leo Tolstoy.  It looks like she's made her first big step in that direction.
Mirren took the Rome Film Festival's award for Best Actress today, putting her right in the thick of a race that has seen Meryl Streep and Carey Mulligan ahead of the pack.  Mirren adds another veteran play for Mulligan's newbie appeal to contend with, while fellow fresh face Gabourey Sidibe is looking better by the day.  ("Precious" also took the Chicago Film Festival's audience award today).
Looking to join the quartet will be Saoirse Ronan for Peter Jackson's "The Lovely Bones" and Marion Cotillard in Rob Marshall's "Nine," but a number of indie performers could surprise, Abbie Cornish in "Bright Star" and Audrey Tautou in "Coco Before Chanel" looking like the strongest of those dark horses.  I wouldn't say there is serious competition beyond that.
The other winners of the festival (which is only four years old) include the Danish "Brotherhood" for Best Film, about a gay love affair between two members of a neo-Nazi group and Italy's Sergio Castellitto for Best Actor in "Alza la Testa." Streep, by the way, was right there in the mix, receiving career achievement honors from the fest.