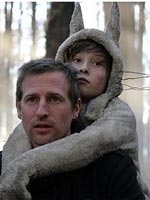 Max Records, the 12 year-old actor who, by handy coincidence, plays young Max in "Where the Wild Things Are," gives pretty good interview. He talks here to the LA Times about the book, the film and his frankly awesome hobby, which consists of the following:
Me and my friends like to wrap mattress film and duct tape around PVC piping and then make foam weapons out of it that we have big foam battles with.
Great kid. Back to the film itself, he has a matter-of-fact response to voices from some quarters suggesting that the film is too adult in sensibility:
It depends on the kid.  There are parts of it that are pretty intense. When I was 7 years old, I could not have seen this movie.  It would've scared me.  But my younger brother, who's now 7, could've seen this a year ago.  It depends on the kid.
Sometimes it takes a 12 year-old to speak common sense. More here.