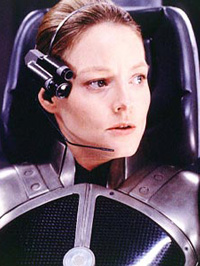 1997 was a great year for actors, but a tough year for Oscar; how do you choose when there are so many deserving nominees?
It's that age-old issue that some award-worthy performances are going to be left out, which though unfair and sad, is very much part of the Academy Awards and frankly what makes the whole thing interesting for us.  The Best Actor field ended up largely a battle of the old boys.  The acting warriors from the 1970s gave some of their finest performances in 1997, and four of the five nominees for Best Actor had been icons for 20 years.
In fact the Academy could have allowed the one upstart to slip past and nominated Al Pacino in "Donnie Brasco," which was the actor's best work in years. As it was Pacino was by-passed in favor of young Matt Damon in "Good Will Hunting," who found himself going toe-to-toe with Robert Duvall in "The Apostle," Jack Nicholson in "As Good As It Gets," Dustin Hoffman in "Wag the Dog" and Peter Fonda in "Ulee's Gold."
I first saw Duvall's performance at the 1997 Toronto International Film Festival and have written about it many times since.  He won the Los Angeles Film Critics Association's Best Actor award, and then the National Society of Film Critics' honor, but the Mayor of Hollywood stood in the way of Duvall's second Oscar.
Jack Nicholson had given a fine performance as a writer suffering from Obsessive-compulsive disorder with a nasty penchant for saying precisely what is on his mind at the wrong time. The role was a good fit for Nicholson and he gave it all he had, offering one of his best performances as well.  He won a Golden Globe and a SAG award, among other designations.
There was the outside threat of Peter Fonda in "Ulee's Gold," which had won him the New York Film Critic Circle's award and the Golden Globe for drama, but it looked like Jack's Oscar, and of course it was.
Pacino's snub was surprising because the actor gave his best performance since "Dog Day Afternoon" as an old low-level mobster trying to stay alive, a far superior performance than the one they gave him the Oscar for in 1992.  Among the actors joining Pacino on the sidelines in 1997 were Leonardo DiCaprio in "Titanic," a shock since his co-star Kate Winslet was nominated; Pacino's co-star, Johnny Depp in one of his finest performances; any of the gents from "L.A. Confidential," who all deserved attention in either the lead or the supporting category; Sean Penn in "She's So Lovely," which was a daring and fine piece of acting that might have been too dark for the Academy, and Ian Holm in "The Sweet Hereafter."
Like Matt Damon, young actor Ethan Hawke gave a brilliant performance in "Gattaca," though one must wonder how many people actually saw the film at the time.  It was deserving, sure, but not visible enough.  The ladies, however, made for a strange lot, with the eventual winner coming as something of a shock because the performance is so…average.
Helen Hunt won the Oscar for her work opposite Jack Nicholson in "As Good As It Gets." Her worl is acceptable, though that New York accent seems forced and sometimes just isn't there.  In no way was she stronger than any of the other four nominees, or a trio of ladies not even nominated.
Of the nominees, the winner should have been either Julie Christie in "Afterglow" or Judi Dench in "Mrs. Brown," though Helena Bonham Carter gave a lovely performance in "The Wings of the Dove," and Kate Winslet made those dreadful lines in "Titanic" somehow come to life.
Not nominated were Jodie Foster in "Contact," Robin Wright Penn in "She's So Lovely" and Pam Grier in "Jackie Brown." Foster's scenes in "Contact" when she sees the vastness of the universe and begins to laugh and weep at the same time, the awe forever registering on her face, were astounding, and I found her work in that film to be better than either of her previous Oscar wins, truth be told.
However, the best performance by an actress I saw in 1997 was given by Jennifer Jason Leigh in "Washington Square," a remake of "The Heiress" with Leigh astonishing as an average young woman born into wealth looking for love, but under the thumb of her nasty father who demeans her at every chance and ruins any chance she may have at love. Sadly the Academy did not even nominate Leigh, one of the generation's finest actresses, and to this day she remains without a nod.
The Best Supporting Actress category was another strong one, filled with excellent performances, with the eventual winner being Kim Basinger for her fine work in "L.A. Confidential." When I heard Gloria Stuart had been nominated for "Titanic" I thought it was over and they would hand it right over. A star of the 1930s cinema, Stuart had never found the fame "Titanic" gave her, and it gave the Academy a chance to wax sentimental…but they didn't.
Basinger was a worthy winner, though Julianne Moore in "Boogie Nights" gave the best performance of the nominees. The other two were the hysterically funny Joan Cusack in "In & Out" and Minnie Driver in "Good Will Hunting." Strangely missing was Sarah Polley for her haunting performance in "The Sweet Hereafter" as an abused teenager crippled in a bus accident that claims the lives of all the town's children but her.
Allison Elliott was criminally snubbed for her wonderful performance in "The Wings of the Dove," the best work in the film.  Anne Heche did some fine work in "Wag the Dog" and Christina Ricci, Joan Allen and Sigourney Weaver were all superb in "The Ice Storm."
Though Robin Williams won the Oscar for Best Supporting Actor in "Good Will Hunting," most of the critics' awards had gone to Burt Reynolds for his spot-on work as an aging porn director in "Boogie Nights," a role that nearly went to Warren Beatty. Though Reynolds hated the film and his work in it the first time he got a look, he changed his tune once the reviews started coming in. He got his first Oscar nomination for the part, and deserved to be the winner.
The other nominees — Anthony Hopkins in "Amistad," Greg Kinnear in "As Good As It Gets" and Robert Forster in "Jackie Brown" — were not even close. Again, any one or more of the men from "L.A. Confidential" could have been in this category, my personal choices being Kevin Spacey and Russell Crowe, both electrifying.  And Ben Affleck did some fine work in "Good Will Hunting."
Both Kevin Kline and Tobey Maguire gave sterling performances in "The Ice Storm," and though perhaps not Oscar worthy, I quite liked what Tom Selleck and Matt Dillon gave us in "In & Out." Finally, while Robert Forster deserved his nod in this category for "Jackie Brown," I have to ask: Where was Samuel L. Jackson? He made my blood run cold with his powerful performance as a very bad dude.
What are your thoughts on the best performances from 1997?  Have your say in the comments section below!