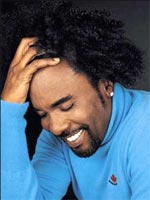 Based on an unexpected blanking in the Gotham Award nominations, plus the lingering resentment in some quarters over Mo'Nique's reluctance to play the publicity game, talk has surfaced this week of a "Precious" backlash. I'm not buying it until there's a larger press reaction to the film upon its release — if it receives further anti-consensus pans along the lines of Ed Gonzalez's, perhaps.
Either way, according to Patrick Goldstein, director Lee Daniels isn't helping matters with some cocky statements that could rub some Academy voters the wrong way. His assertion that "'Precious' is so not Obama … so not P.C.," in the film's recent NYT spread, strikes me as a harmless bit of bluster, while I'm not sure why anyone but the most conservative bluehairs would be concerned by him describing himself as "a little homo … a little Euro … a little ghetto."
But Goldstein goes on to highlight a strain of Daniels' so-called "trash-talk" that could cause more offense in Academy circles:
Daniels' downfall may come from his boast in the Hirschberg profile where he claimed that he "kind of co-directed" "Monster's Ball," which he produced, but was actually directed by Marc Forster. Daniels also says he gave (the Oscar-nominated) Halle Berry her line readings, which is bad form even if it were true and could lose Daniels a couple thousand votes from the actors branch right off the bat.
(That's "Oscar-winning Halle Berry," by the way.)
It may or may not be true, but it's tactless either way. Goldstein likens this to the "king of the world" arrogance for which James Cameron took so much flak after the 1997 Oscars, while also making the more obvious Spike Lee comparisons, arguing that mouthiness is tolerated to a degree from established filmmakers, but less so from a comparative outsider with two features (one of them dreadful) under his belt. I'm making no judgment … just passing the issue along. Read the rest here.
"Precious" premieres tonight at the London Film Festival, though it seems Daniels is too ill to attend. Due to scheduling conflicts, I'm catching up with it on Monday.