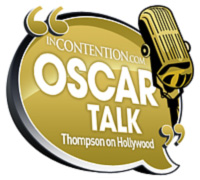 Welcome to the seventh installment of Oscar Talk, a weekly kudocast between yours truly and Anne Thompson of indieWIRE's Thompson on Hollywood.  Anne is calling from London today, where she's gearing up for a weekend of London film fest screenings and events.
Topics on today's agenda:
• Today's big release, "Amelia," finally crossed the bow of most critics this week and, with it quickly becoming obvious WHY it only crossed their bows this week, Anne and I discuss what went wrong with the movie.
• In the wake of Anne's recent hit piece on the Hollywood Film Festival and its leadership, we talk about the fluff of this event amid the award season chatter.
• Speaking of awards, we get into the Gotham Award nominations, which caused a stir in some quarters due to the absence of "Precious." Neither Anne nor I think there's a backlash afoot.
• Last week we talked about screeners that quickly end up at the bottom of voters' piles this time of year.  We discuss a few titles that could unfortunately hit that low rung of priority, "That Evening Sun," "The Messenger," "Trucker," etc.  Sony Pictures Classics seems to have a number of these titles.
• Anne briefly previews some titles she hopes to catch at the London fest.
We went a little long today, roughly 30 minutes.  Have a listen below, subscribe to Oscar Talk at iTunes here, and we'll see you next week.
[display_podcast]