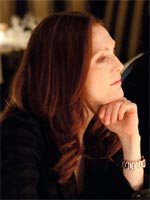 I realize I've dropped the ball somewhat with my festival updates — between the to-and-fro of festival business, other writing tasks and the occasional impulse to have a personal life, a backlog longer than I care to count has accumulated of films yet to be discussed. Expect that to be partially rectified over a quieter weekend … even if I resort to "100 words or less" games.
However, once more a pair of films seen in relatively close succession demand to be reviewed together. Atom Egoyan's "Chloe" and Catherine Corsini's French-language "Leaving" overlap in a number of ways.
Both are slickly accessible thrillers revolving around marital infidelity, both use that as cover for a less mainstream investigation of middle-aged female sexuality, and both are anchored by formidable actresses — Julianne Moore and Kristin Scott Thomas, respectively — in full possession of their powers.
Beyond that, of course, they run in wildly divergent stylistic and narrative directions — neither with complete success, but both serving as loving showcases for performers that Hollywood wouldn't dream of building a project around anymore. Add "I Am Love," the very similarly themed (and similarly spotty) Tilda Swinton vehicle from Venice, to the mix, and something is plainly afoot for older women in the arthouse.
Even as I write that, however, I must acknowledge that "Chloe" (**1/2) enjoys only the most tenuous grip on the term "arthouse." Not so much glossy as lacquered in its production sheen, Egoyan's film sporadically aims for the sensual adventurousness of "Exotica" or "Where the Truth Lies" — principally in a raunchier-than-standard same-sex love scene that should prove its principal public talking-point — but grows fluffier as the narrative, hewing closely to the template provided by Anne Fontaine's 2003 "Nathalie…," unfolds.
Moore plays Catherine, a successful gynaecologist grown distant from her academic husband (Liam Neeson), and tormented by suspicions of his infidelity. She acts on them by hiring young escort Chloe (Amanda Seyfried) to lead him into temptation, then gradually loses grip on the situation as Chloe pushes her own carnal buttons. Following an insufficiently disguised twist, the film dives headlong into Adrian Lyne territory, channeling the knowing pulp of "Fatal Attraction" and "Unfaithful" in both plot and presentation, but punishing its heroine to an absurd degree for her curiosity.
The film's moral hypocrisies may leave a sour taste, but Moore remarkably holds the enterprise together with her most empathetic and emotionally cohesive turn in years, making more sense of Catherine's  bold behavioral leaps than the script does. She's presented a little too pristinely for a woman who supposedly struggles with self-image, but she's persistently fascinating to watch.
In contrast, "Leaving" (***) affords its protagonist even more ludicrous decisions than "Chloe" does, but has the admirable assuredness to present them as blunt realism. Starkly literary in form (Gustave Flaubert could have written this story in the 19th century without having to alter much more than the clothes), the film's set-up — posh housewife leaves cold husband for swarthy blue-collar, complications ensue — makes an elegant virtue of its simplicity, pulling the focus entirely onto, and inside, the deluded woman at its center.
As her behavior devolves from the selfish to the desperate to the rivetingly unhinged, "Leaving" grants Scott Thomas considerably more room to flex and roar than the more disciplined showcase of "I've Loved You So Long" last year, and it's a thrill to see her surrender to her character's extremities.
The performance is never broad, however, and minute details of eye contact and expression serve to remind us that, with age, the actress has acquired one of the great screen faces. Intelligent if a touch dry in conception and execution, "Leaving" depends on Kristin Scott Thomas for its danger and its class, but at least it knows its strengths.