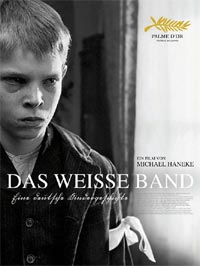 London Film Festival
With apologies to Pete Townshend, the kids are most certainly not alright.
Such is the message we seem to be gleaning from the cinema of 2009, as a vast range of unrelated titles – "Precious," "Coraline," "Dogtooth," "Antichrist," "Fish Tank," even "An Education" – appear united in visiting the physical and/or psychological damage wrought upon children by either obliviously or maliciously neglectful parents, in some cases planting the seeds of trauma for further generations.
No film this year, however, addresses the matter with more thematic exactitude and near-scientific scrutiny than Michael Haneke's grimly riveting "The White Ribbon," a film which differs from the ones previously mentioned by taking an entire community, as opposed to a solitary family, as its allegorical subject. More expansive in its focus than any previous Haneke work, it nonetheless surprises with the intimacy of its gaze and the social responsibility of its treatise.
Eternally fascinated by human behaviour, yet never a director much associated with the humane – his trademark chilliness reaching new heights (or depths, if you prefer) with last year's "Funny Games" remake, which treated its papery characters with even more diagrammatic dispassion than the 1997 original – Haneke finally marries these two approaches here, empathizing with its considerable ensemble of characters even as it dissects them.
It would be a stretch to call a film this formally ascetic, not to mention narratively steeped in suffering, "warm," but there is an arm's-length compassion to its study of domestic calm dissolving across a range of neighboring households, under the cumulative weight of spite and suspicion.
Extravagant ambition notwithstanding, "The White Ribbon" is not Haneke's most challenging film, nor his most aesthetically rigorous – both titles I would hand to his 2005 chef d'oeuvre "Caché" – but it is both his most emotionally involved and involving, not to mention his most purely beautiful. As a fellow scribe remarked to me after the screening, "It's even got romance! And no one is punished for it!"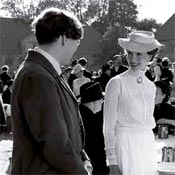 That may account for why this of all Haneke's films finally united enough opinion to grant him the Palme d'Or he had long been promised (as well as to install it as an unlikely Oscar favorite), but it doesn't make it any less austere or frightening a work than we've come to expect from the Austrian auteur.
Empathy is not to be mistaken for kindness, after all, and "The White Ribbon" features several scenes of stunning pain and cruelty – equivalent to the gasp-inducing jolts delivered in "Caché," "The Piano Teacher" or "Funny Games," but all the more upsetting for placing children at their center.
The intricate, episodic narrative unfolds over a period of several months in a Protestant village in rural Germany in 1913 and 1914, on the very cusp of World War One. Its docile, if not terribly happy, population functions soundly enough until a series of intangibly linked incidents of violence and destruction indicate a burgeoning strain of anonymous malevolence in the community: the village doctor is tripped on horseback, a season's worth of cabbage is shredded in the field, a young boy is brutally attacked.
As mass paranoia causes the entire village to shift on its moral axis, our perspective on the events is guided by its most benevolent inhabitant, the shy local schoolteacher, who gradually pieces together a truth both horrifying and blindingly obvious. His reflective narration lends the impression of nostalgia until it becomes clear his story will have no moral and no resolution; the device is but one way in which the film proves a Transatlantic counterpart to Thornton Wilder's "Our Town," the classic frieze of American small-town life that also informed Lars von Trier's "Dogville."
Wilder is but one thread in the film's dense tapestry of influences: many have picked up visual and structural ties with Ingmar Bergman, most obviously in the punishing spiritual concerns of the Swede's Trilogy of Faith, though closer to home, there's a healthy dose of twisted 1950s Heimatfilme in the mix. Christian Berger's exquisite monochrome lensing, meanwhile, recalls Sven Nykvist in its shadowplay as much as it does the stark landscape photography of Ansel Adams or the interior paintings of Vilhelm Hammershøi.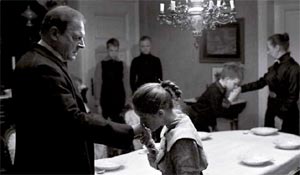 The range of influences is appropriate for a film so open to universal interpretation. Much has been made of how the narrative lays the foundations of fascism in future German generations – and the knowledge of what is to come as they grow up certainly adds a horrifying frisson to the children's increasingly hostile interactions – but it needn't be read so specifically. The domino effect of parental abuse and childhood repression in "The White Ribbon" speaks to any social context, past or present, particularly as rates of youth violence continue to soar.
Such speculation is to distract attention from what a pristine formal achievement "The White Ribbon" is on any terms, its every component – from the sparsely evocative production design to an ensemble cast so adeptly integrated it seems perverse to single anyone out – bearing the mark of a master who has never exerted more control over his craft.
Perhaps most impressive of all is that filmmaking this immaculate still accommodates the viewer's imagination so generously. After 145 anxious minutes, Haneke doesn't end on quite the tease that "Caché" did, but still leaves his audience with a mystery solved rather than resolved: we leave the theatre knowing that the worst is yet to come.