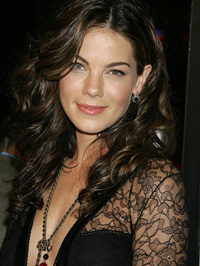 Of all the actors I've spoken to over the years, I do not remember having such a great time as I did with Michelle Monaghan, currently on screens in "Trucker" and generating some awards chatter for her work. The actress is funny, honest, refreshingly frank and grateful for her career, unaffected by her fame, and a genuinely nice gal, still obviously remembering the lessons she learned growing up surrounded by working class values.
She laughs often and it is a deep, infectious laugh that seems to surge right through the phone line.  What she has achieved in a very short time is special indeed, and despite having no training as an actor, she may be one of the finest American actresses of her generation; she is certainly the best I've seen this year.
Monaghan has been visible on the American film scene since earning strong reviews for her riveting performance in "North Country" in 2005, with Oscar winner Charlize Theron, which she followed with "Mission: Impossible III" a year later, more than holding her own opposite Tom Cruise. Her performance in "Gone Baby Gone" was remarkable, resonating with a great deal of sadness, and she ran around the blockbuster "Eagle Eye" with Shia LaBeouf, managing to find an actual character amid the fluff.
The girl can act, and she is getting better with each film.  Her turn in "Trucker" is astonishing.
The film tells the gritty story of Diane, a long-haul trucker, driving 18-wheelers across the country, hellbent on getting that all-important on-time bonus. She doesn't shy away from one-night stands, leaving many a guy wondering what him him, nor does she feel the least bit guilty about hanging out with a married man, though there is nothing betwen them. Her life is sent into a tailspin when she is suddenly faced with a son from a marriage in another life, the boy's father having been hospitalized with cancer.
Forced to think about someone other than herself, Diane is not sure she is up to it, but in the days that she has with the boy, she discovers a humanity within herself she didn't know existed. It is a spiky relationship, but one that will considerably impact the two of them.
In many ways the film is a return to the sort of picture made in the 1970s, such as "Five Easy Pieces" and "The King of Marvin Gardens," though in this case, the lead is a female.  "I wanted this role so bad,"Monaghan says.  "I mean, I loved the story and the character, and I trusted the director to go in the right direction.  I like that Diane is not a victim.  She is a carefree, independent woman who lives by her own rules in her own world, and though she may be immature in many ways, there's a lot to like about her.
Monaghan says she connected with Diane because she is in a working class environment, which brought back memories from childhood for the actress.  "And I admired her honesty," Monaghan adds.  "She never lies.  She always tells the truth and is not a victim at all. And I really liked that she lived in what was mainly a male-dominated world."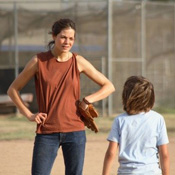 When she took on the role, Monaghan says it was imperative for her to learn to drive a big rig in order do the character some authentic  justice.  "I couldn't even drive a five speed when I started," she exclaims.  "So for two or three hours a day for three weeks I trained to get my CDL, so yeah, I went to truck driving school. It really mattered to me that I did this, it really mattered that I got this right. These are real people with real struggles.  I knew I had to honor that with the best I could possibly give."
Meryl Streep once said to me that she accepts a role based on whether or not it attaches itself to her soul, so given the background resonance, I ask whether that might have been the case for Monaghan with this character. "Well, I wouldn't want to take away what Meryl Streep said, my God," she laughs heartily.  "But yes, it was something like that. The character moved me on so many levels. I look at it now and ask myself, 'Where is that gal?' But I know Diane is still with me. My husband is the better one to ask about that. He tells me I was a pill the whole time and for a time after.
"I saw Diane as mustang, a wild horse," she continues.  "And my director told me of a film he had made about wild mustangs, and no matter how hard they tried to rope this one mare, they could not do it, she was going to stay wild. So I saw Diane like that. I don't know if you noticed but I had a fake tatoo on my shoulder, Wild Mustang, and I think that represents Diane. I tried to achieve that in small ways in my physicality, in the way I moved, the way I moved my head, things like that, and I don't know if it comes across, but it helped me get there."
The explanation is perfect because the character is indeed carefree, with a wild streak in her, certainly not wanting to settle down and play family. For me, I tell her, the mustand metaphor is perfect. But as she left her child, is she a bad person?
"She is brutally honest," she explains.  "She never lies, and personally, I have a lot of respect for someone like that. She's not where a lot of people her age are at in their lives, but it's not my job, the job of the actor I mean, to judge her, and certainly James [Mottern, the director] never judged her. She is who she is, no surprises."
In the last few years there have been several films offering strong roles for women, which have given us an array of great performances such as Maggie Gyllenhall in "Sherrybaby," Kate Winslet in "Revolutionary Road," Ellen Page in "Juno," Meryl Streep and Amy Adams in "Doubt" and Helen Mirren in "The Queen," to name a few.  Monaghan says she believes there has been a small turnaround in cinema with stronger roles coming to the fair sex, which she finds quite exciting.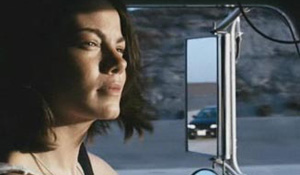 "That is so refreshing," she says.  "I would like to see more, though I can't say at this point we are lacking in good roles, and if we are, I am not one to piss and moan about it.  I like to be positive and do something about it rather than just bitch about it. The roles are there; sometimes the challenge is getting the film seen."
Monaghan is well aware of the Oscar talk surrounding her performance, and though she is deeply moved by it, what she really wants is for people to see the film.
"We worked so hard on it," she says.  "I would be happy if more people saw the film, and if being nominated for an Academy Award brings 10 or 20 more people to the theater to buy a ticket, that makes me very happy. This is something we are all very proud of, something we made in less than a month if you can believe that, so I just want to get people out there to see the movie."
When asked about working with the caliber of actors she has had the chance to work with, there is immediate admiration in her voice.
"I didn't study to be an actor," she says.  "So when I'm on set with Ed Harris, or Tom Cruise, or Charlize Theron, I am a great observer.  For me it is Acting 101. I come away better than I was before, because each actor is different in their approach to the work, and the ones I have worked with have been so willing to share with me. I studied journalism, and I have used my five W's (who, where, what, when and why) in creating my characters, because I write about them a lot, creating a history for each. So merging the writing knowledge and the fact I can watch and listen together, I have learned so much."
There is a refreshing reality in everything Monaghan does that comes from some honest place deep inside of her. She wants to succeed, she wants to be good, she wants the work to be truthful, and the one thing she learned about herself on "Trucker," she says, is that she is stubborn.
"It helped me in the role," she says.  "It helped me find Diane and define Diane. We share that I suppose. And you know she's still with me, I'm still digesting the whole experience, and I found her hard to let go."
It's a sentiment that makes sense.  Monaghan certainly left nothing on the field when it came to her performance in the film.  Perhaps awards voters will feel the same way throughout the season.