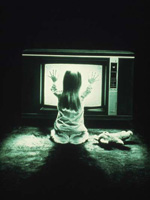 If you're into the below-the-line filmmaking process (which we attempt to spotlight as best we can throughout the season in our weekly Tech Support column), then this is for you.
The Academy will be sponsoring an event call "The Sound Behind the Image III: Real Horrorshow" on Thursday, Ocotber 29, or one week from today.  The event will be held at AMPAS headquarters in the Samuel Goldwyn Theatre over on Wilshire.
"The program explores the art and technology of sound in motion pictures and the vital role it plays, specifically, in horror films," according to the press release.  Sound editor David E. Stone ("Reservoir Dogs") will play emcee to the festivities.
Three-time nominee Mike Mangini ("Aladdin," "The Fifth Element") and two-time nominee Richard L. Anderson ("Raiders of the Lost Ark," "Daylight") will offer a presentation on the sound effects and design of Tobe Hooper's 1982 horror classic "Poltergiest" (for which Anderson was nominated).
Meanwhile, foley artist Vanessa Theme Ament ("The Little Mermaid II: Return to the Sea") will present the work of master foley artist John Post, who actually worked on the innovative John Carpenter's "The Thing" with my old sound editing teacher from film school.
Finally, Oscar-winning mixer Gene Cantamessa ("E.T.: The Extra-Terrestrial") and supervising sound editor Don Hall ("Butch Cassidy and the Sundance Kid," "Patton") will discuss their work on "Young Frankenstein," with participating figures of the field alongside.
It should be a fun experience if you're interested in these things.  Tickets are only $5.00, $3.00 for students or Academy members.  Head on over to the Academy's official site for further info.