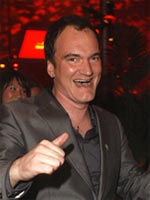 Some of you may have read my defense last week of Brillante Mendoza's grimly violent "Kinatay," a film that provoked mass hostility at Cannes in May for portraying the rape, murder and dismemberment of a young woman in unrelenting detail. Roger Ebert declared it the worst film ever to play at the festival, and the announcement of Mendoza's Best Director award was roundly booed in the Cannes press room.
For all that, the film does have its champions, and as it turns out, Quentin Tarantino is among them. Thanks to Ben Mortimer at ComingSoon for pointing me to this letter (itself courtesy of Letters of Note) written by Tarantino to Mendoza, congratulating the latter on his Cannes win and pretty accurately nailing why the film works. (For us, at least.) Spelling errors preserved:
Bravo on your diffcult troubling work. Your decission to never dramatize the murder, never indulge in movie suspense…. was bold, daring, and to me, the whole point of making the movie in the first place. I felt it was completely a eyewitness acount of a horroble murder. I believed everything I saw. Your point wasnt to dramatize it. It was to capture it.
The actual document is after the cut, in case you've always longed to see QT's handwriting.