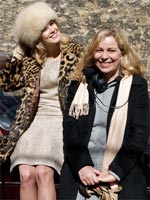 At this morning's press screening for "An Education," which has its UK premiere at the London Film Festival tonight, I was impressed afresh by what a layered, deceptively gentle and generally terrific little picture it is.
Some have complained that it's a little too soft, a little too easy — though only its overly pat denouement, for me, merits any such claims — but this is a film that knows its audience, as well as how to sneak more subversive material by them, and deserves credit for its intelligence in doing so.
I'll admit that this morning, the thought of it actually winning Best Picture crossed my mind, albeit built on a shaky pile of ifs; either way, it strikes me as a genuine Academy film, and for a change, that isn't meant as an insult.
So I'm interested to see how many seeds the film can plant in the contenders field, once awards season really gets into gear: it goes without saying that nominations for Carey Mulligan and Nick Hornby are a done deal, and if anyone was doubting Alfred Molina's prospects before seeing the film, his knockout through-the-bedroom-door speech near the film's end should clarify things for them.
But could there be more in store? As I watched this morning, I was struck by a couple of additional contributions that perhaps aren't generating as much buzz as they deserve:
LONE SCHERFIG: Obviously, Scherfig is already in the Best Director discussion and has been ever since the film's Best Picture nomination became a consensus prediction. But there's still an unfair perception among many that she's along for the ride, that the film isn't enough a director's showcase for her to merit serious consideration.
To which the obvious reply is that an ensemble this rich and cohesive (featuring relaxed work even from such previously stiff thesps as Dominic Cooper) doesn't direct itself, and that the tech team isn't solely responsible for its crisp pacing and evocative period detail. Two years ago, Jason Reitman surprised pundits by landing a nod for a film more celebrated for its acting and writing; I would be surprised to see Scherfig accomplish the same, especially if the media pushes the "year of the woman" angle.
ROSAMUND PIKE: I'm not the first to call for recognition for Pike's unexpectedly wise supporting turn as a dim trophy girlfriend, but it seems to me that not enough others are. Never previously the loosest or most genial of actresses, Pike takes what could be a broad, ditzy caricature and imbues the role with subtle layers of awareness and melancholy — we're never sure exactly much she knows or conceals. Which is not to say she doesn't nail her comic beats either — her sweetly catty dismissal of Mulligan's outfit in their first scene together deserves a line-delivery award of its own.
ODILE DICKS-MIREAUX and ANDREW McALPINE: The film's costume designer and production designer, respectively, haven't figured on many pundits' contenders lists, though Gerard now has the former on his radar. There's a reason for that: subtle, largely domestic period work doesn't have a great history of Academy recognition, though last year's surprising (to some) costume nod for "Milk" reminded us that needn't always be the case. And the work on display in "An Education" is both immaculately detailed and story-serving: Dicks-Mireaux, in particular, invaluably aids Mulligan's morphosis from girl to woman and back, throwing some lush frocks on screen in the process.
I'm not saying all these names will necessarily find themselves in the Oscar hunt — just that they merit consideration. Moreover, if any of them do start showing up in precursor lists, I personally think "An Education" could turn into more of a Best Picture threat than people realize.