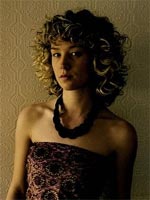 This morning I highlighted a few areas where the "An Education" team might want to angle for nominations beyond the slam-dunk that is the Carey Mulligan Express. What I forgot to suggest is that the film could theoretically put itself in the hunt for Best Original Song.
You could be forgiven for thinking that the lovely, woozy torch ballad "You've Got Me Wrapped Around Your Little Finger" — which features prominently in the trailer, as well as twice in the film itself — is a dusty archive find from the early 1960s.
However, it's actually a contemporary track co-written and performed especially for the film by 28 year-old British jazz-pop chanteuse Beth Rowley (who appears as a nightclub singer in the film).
The song might be a tad breezy to score with the fussy music branch — and I might be missing some finicky eligibility issue — but it is thematically relevant and integrated into a key scene, while Rowley has a certain critical cache at the moment. Hell, if we're talking about Adam Lambert, we should add this one to the pile.
Of course, the film also features a contemporary end-credits track, Duffy's rather more dramatic soul ballad "Smoke Without Fire." Lone Scherfig's statement on the official "An Education" website says this was recorded for the film too — but since it was a B-side to a Duffy single as early as last year, I don't know if it's eligible or not.
If your memory needs jogging, you can listen to the Rowley track in full here.