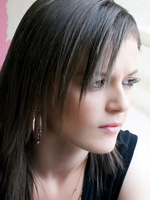 This is weak sauce, and I know that going in, but it looks like back-to-back weeks without an Off the Carpet column.  Two screenings today, suddenly being pulled out of town tomorrow, computer issues, etc. — it tends to get in the way.
In the meantime, some sporadic thoughts:
• "An Education," "Fish Tank" (which I finally saw this morning as we gear up for AFI Fest) and "Up in the Air" would make for a bizarrely appropriate triple feature.
• With that in mind, I've found myself, for better or worse, turning over what the year in film might actually mean this year.  It's folly, of course, and overly reductive, but I always enjoy turning over the year's themes.  Maturity seems to be a big constant.  What say you?
• I think what has shaped up to be a handsome year in indie film was let down today by a dubious slate of Gotham nominees.
• Ennio Morricone at the Hollywood Bowl is SO going to rock this weekend.  But probably not quite as much as U2 tomorrow night (my first time).
That's all I've got.  Predictions have been tweaked.  The contenders are here.  The floor is yours.