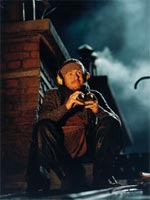 I am presently seeing films at the London Film Festival at a greater pace than I can write them up — expect a round-up of curt (by my standards, at least) capsule reviews either later today or tomorrow.
Some films, however, demand to be reviewed in pairs, as is the case with Jean-Pierre Jeunet's latest, the frothy action caper "Micmacs," and Elia Suleiman's rather more subdued Cannes entry "The Time That Remains," which I saw this afternoon and yesterday respectively — two polar-opposite films that nonetheless both blend naive physical comedy with a political agenda, to very different tonal effect.
"Micmacs" (**)
As a filmgoer, few things are as dispiriting as the sensation that everyone on screen is having more fun than you — and not being able to join in. Such, I regret to inform, was my experience watching the latest eccentricity from Jean-Pierre Jeunet ("Amélie," "Delicatessen"), which floods the screen with inventiveness, enthusiasm and his trademark sepia-stylized visuals — special kudos to Aline Bonetto's production design — but is so claustrophobic, and so convinced of its own charms, that the narrative is lost somewhere in the bustle.
There's no need to dwell on the story, which concerns a hapless down-and-out (French comedy megastar Dany Boon) who, with a collected gang of oddballs, seeks to bring down the arms manufacturers indirectly responsible for his father's death, since it largely operates as a springboard for a series of elaborate visual gags and gizmos, as well as a multiple homages to assorted golden ages of French and Hollywood cinema alike. (Boon's character is a former video-store geek, with a clear physical affinity for the comedy of Buster Keaton.)
As it hurtles from one elaborate comic set piece to the next, it's never exactly dull to watch but the characters within our band of heroes are so thin and tonally indistinguishable — that awful standby "wacky" pretty much covers the lot — that I found it hard to be drawn into their madcap quest. The supposedly more serious jabs at the weapons trade that bookend the film seem an afterthought — this film could be "about" anything at all without having to alter its story much. Those with a higher whimsy threshold than I will likely delight in this, but it's Jeunet's most minor, self-involved work to date.
"The Time That Remains" (***)
Whimsy of a blacker strain is to be found in Elia Suleiman's alternately endearing and unreadable "The Time That Remains" — which continues the notable run of recent cinema engaging with the still-hot potato of Israeli and Palestinian conflict, though with markedly more humor and subtlety than most. Inspired loosely by the diaries of the director's parents, the film ostensibly paints on a massive canvas as it follows one Palestinian family through six decades of political resistance, but its sketch-based structure and consistently wry tone make it feel a lot tighter and more intimate than that suggests.
The comedy of Jacques Tati is a key touchstone here, as characters finds themselves frequently (and oftenly obliviously) in conflict with their physical environment — a surreally hilarious scene wherein a tank gun pedantically follows a cellphone-yakking pedestrian at point blank is a case in point. As in his previous films, Suleiman himself is later present as a silently befuddled Hulot-style observer, but this highly idiosyncratic film is at its most resonant in its earliest scenes, where the parallels with the director's own family history are clearest.