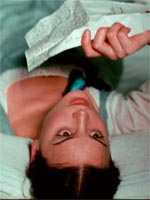 Regular readers will know that Kris and I frequently disagree as to the merits of certain films — and cheerfully so, since a range of opinion is kind of the point of having multiple contributors to a site like this.
But I don't think our opinions have ever been so sharply opposed as they are over Jane Campion's "Bright Star" — which has its UK premiere tonight as the Mayor of London's Gala selection, and which thoroughly enthralled me at this morning's press screening.
I realize that the film is relatively old news in the States as I write this, but I nonetheless feel compelled to add a rejoinder to Kris's fair but frosty take from Telluride last month, as for my money, Campion has turned in a rhapsodically beautiful work, a possible four-star effort that sits easily with her finest.
I'll admit upfront that I'm always sympathetic towards Campion's films, which provoke and intrigue even when they don't finally cohere (as was certainly the case with the fascinatingly flawed "In the Cut"). But I was nervous about "Bright Star" for several reasons, and not only because she hasn't entirely floored me in 13 years: a period literary biopic seemed a disappointingly safe comeback route for her, while a PG-rated romance seemed curious for a director usually fired by sexual politics.
As it turns out, these limitations, if you will, actually inspire some of the most creatively sensuous filmmaking of Campion's career. Denied the explicit in a portrayal of young love, she resorts to the tactile, detailing the emotional state of John Keats and Fanny Brawne via their physical relationship to their surroundings, whether it's the bamboo and bluebells of Hampstead Heath or its tangible textures of paper and fabric. (Costume designer Janet Patterson should just be handed her rightful Oscar now — as should young DP Greig Fraser, who works painterly miracles with the dun London light.)
I can understand how some might find this approach a little cool to the touch, and Abbie Cornish's reserved, contemporary-accented Brawne a tad difficult to warm to. But I found the film more moving for its lack of sweeping emotional gestures — it's a quiet film, but one still besotted with words, positioning Keats's exquisite verse as its prime emotive tool on the audience.
Cornish, meanwhile, hit every mark for me: she makes the rather brave decision to play up Brawne's sullenness in the early stages, her face and body gradually loosening as first teenage love hits, only to pinch and contract once more in the sad, whisper-soft denouement. It's a highly controlled performance, but one with striking flashes of youth and modernity. Much the same goes for this remarkable film.