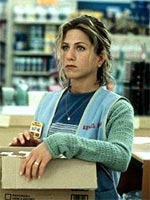 Apropos of nothing really, since the article is a week old and even I have no intention of seeing "Love Happens," but my friend Jamie — who knows, albeit not very supportively, of my longstanding admiration for Jennifer Aniston — sent me this interesting Independent piece, and I thought I'd throw it out there.
As some of you may have read before, I've long held the belief that Aniston is a genuinely gifted actress — and I haven't had an awful lot of company on that one. Ben Walsh, however, joins me on that limb, saluting her consistently valiant contributions to largely unworthy films:
These cynical, quite often facile films may lack depth, subtlety and, well, imagination, but Aniston never lets anybody down. In fact, now that Meg Ryan appears to have imploded, Aniston is probably – and this is a tad bold – the most gifted American comic actress of her generation. Her comic timing is immaculate and she could muster up playful sexual chemistry with a sideboard. And while her acting range isn't huge, she's never less than compelling.
I'm happy to see Walsh extend his defence beyond the two "respectable" titles in her filmography that even many haters grudgingly concede — "Office Space," "Friends With Money" and, in particular, "The Good Girl." As award-caliber as she was in the latter, her mettle is proved most effectively when she energizes formula material such as "Marley & Me" or "He's Just Not That Into You" (though I still think the latter film undervalued).
Finally, Walsh calls for big-name directors to give her some counter-intuitive casting opportunities. Suggesting she work with Ken Loach is, of course, obtusely far-fetched, though perhaps that musical prison biopic has the goods. And call me insane, but should the film ever get made, I always thought she'd make a fine Denise in "The Corrections."
Anyway, sorry for the brain leak. Amid the cineaste rigor of the London Film Festival, it can't be all highbrow, all the time. Anybody agree? Any other actors you think aren't being given enough of a chance?