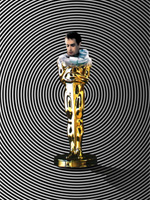 Duncan Jones is quite the intrepid fellow.  He has a fairly consistent presence on Twitter, always notifying of the recent ups and downs of his 2009 sci-fi effort "Moon." (Most recently the film cleaned up at Spain's Sitges Fantastic Film Festival.)  But mostly the director just seems anxious to get the word out on an expertly crafted film that he's clearly proud of.
So of course a grassroots campaign to land Sam Rockwell a Best Actor Oscar nomination is right up his alley, and as you know, I'm all for it.  "Moon" is the kind of film that really needs this kind of dig-your-heels-in effort because, despite working out nicely in Sony Pictures Classics' conservative (i.e., successful) distribution philosophy, still doesn't have the reach and blanket exposure that it needs for this kind of thing.
Of course, grassroots campaigns have fizzled out in the past.  And if we're being realistic, there's probably no chance in hell that Rockwell can get the consideration he deserves; it would take a concentrated screening, wining and dining sort of effort that is just not in the cards.  But I like Jonses's moxie.
Go over to ManMadeMovies for more and sign the online petition if you like.  Also: #samrockwelloscar.  A fan-made poster for the effort after the jump.