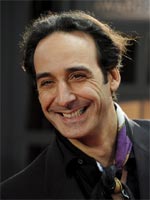 You'd be hard pressed to disagree that Alexandre Desplat is pretty much at the top of the game in contemporary film scoring. In addition to his genius ("Birth" looks likely to remain my favorite score of the decade), his prolificity is awe-inspiring. This year alone sees the Frenchman's name on seven features, running the gamut from "Julie & Julia" to "A Prophet" to "Fantastic Mr. Fox" to the latest "Twilight" installment.
He seems bound to figure in the awards race for one film or another ("Cheri" would be my personal pick so far), so it's a nice — if not terribly prescient — omen that he just won Composer of the Year at the 9th annual World Soundtrack Awards yesterday, as well as score of the year for his Oscar-nominated work on "The Curious Case of Benjamin Button."
It's a 2008-leaning list, with "Slumdog Millionaire" and "The Reader" also resurfacing, though a Lifetime Achievement Award for Marvin Hamlisch is clearly a nod to "The Informant!"
The awards, handed out by the World Soundtrack Academy in Ghent, Belgium, an educational organization dedicated to the art of film music, don't carry much weight to speak of, but since we're having a day of small awards announcements, it's a fun list of winners to add to the pile. Full list after the cut.
Film Composer of the Year
Alexandre Desplat ("The Curious Case of Benjamin Button," "Coco Avant Chanel," "Largo Winch," "Cheri")
Best Original Film Score of the YEar
Alexandre Deplat, "The Curious Case of Benjamin Button"
Best Original Song Written for a Film
A.R. Rahman (music), Gulzar and Tanvi Singh (lyrics), "Jai Ho" from 'Slumdog Millionaire'
Discovery of the Year
Nico Muhly, "The Reader"
Lifetime Achievement Award
Marvin Hamlisch
Public Choice Award
Carter Burwell, "Twilight"
Sabam Award for Best Young European Composter
Christopher Slaski