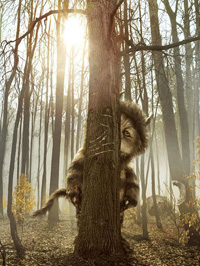 Well, it was maybe the most anticipated PG-rated film amongst the young adult set since "Star Wars Episode I: The Phantom Menace" and "Where the Wild Things Are" landed with a bang this weekend. The Spike Jonze adaptation grossed $32.5 million to top the box office and justify all the bickering and problems during production between director and studio.
Warner Bros. is having quite a year with unique directors tackling projects and possibly turning in a different movie than the studio was expecting ("Observe and Report" and "The Informant!" also come to mind), but it's hard to imagine the film doing this well without a name like Jonze behind it. Kids made up only half of the audience and the broad appeal amongst all age groups should help with staying power over the next few weeks, even though reaction seems to be slightly mixed to positive.
"Law Abiding Citizen" took the runner-up spot in a bit of a surprise. The action/thriller grossed a strong $21.3 million, which would have been enough to top the chart on this same weekend last year. That's a new high mark for Overture Films and another feather in Gerard Butler's 2009 cap after "The Ugly Truth." He may not be headed to an Oscar anytime soon but he has to be commended for turning the freak box office performance of "300" into bona fide movie stardom.
"Paranormal Activity" continues to gross paranormal numbers with another $20.2 million this weekend from 760 theaters. It's not quite at the pace that "The Blair Witch Project" was at when it expanded but with a 2,000+ theater roll-out planned for next weekend and Halloween fast approaching, this no budget exercise should be knocking on the door of $100 million when all is said and done. Flabbergasting.
The box office was so scorching this weekend that there was even room for "The Stepfather" to gross a solid $12.3 million. When your biggest star is Dylan Walsh and you're competing against the biggest horror phenomenon in a decade and you can still pull in double digits, it's officially time to give the Sony marketing department a big fat raise. I mean, the poster was a pair of hands holding a tie and they can double the business of "Jennifer's Body."
"Couples Retreat" fell the standard 48%, which could have been worse if there was another comedy option for couples out there, while "Cloudy With a Chance of Meatballs" slipped past the $100 million mark, a first for Sony animation. In limited release, "A Serious Man" and "An Education" continued to prove their awards credentials with solid holds in limited expansions.
This week, I dropped $11 for "Good Hair," which failed to meet my already modest expectations and spent a much wiser $6 on "35 Shots of Rum," which didn't excite me as much as it did Guy, but I definitely admired it in a lot of ways. I also joined the rest of the hipsters at the Thursday midnight showing of "Where the Wild Things Are," which I thought had minor pacing issues and a general over-reliance on score, but otherwise hit all the right marks.
Next week gives us "Astro Boy," which apparently some people have a nostalgic attachment to. Looks totally generic to me but it's a kids movie and the box office is hot right now so I'll give it $15 million.
There's also another "Saw" movie, which is the sixth in six years and is somehow always good for close to $30 million. The "Paranormal Activity" expansion has to hurt, as does the fact that at some point audiences surely have to realize that there is literally no point to seeing any more movies in this series. Why not now? I'm gonna say $25 million for this one.
Universal's got "Cirque du Freak: The Vampire's Assistant" and it looks disastrous. Everything about it seems completely lazy and if it makes more than $6 million, I'll be very surprised.
Finally, we get a long awaited look at "Amelia," which Fox Searchlight has targeted for 800 screens. The lack of festival presence for this film is puzzling and it will be landing with a distinct lack of buzz outside of the NY/LA circles. I think $5 million is where it's headed and then reviews will dictate where it goes from there.
What do you guys think?  Here are the weekend's top domestic grossers, courtesy of Exhibitor Relations: