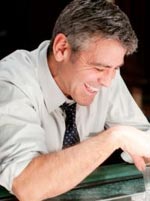 To use the umpteenth bad aviation metaphor in connection with the film, "Up in the Air" landed in London this evening with a gala festival screening — though this time it came unaccompanied by George Clooney, who had skipped off to the Rome fest after doing double-duty at the LFF earlier this week with "Fantastic Mr. Fox" and "The Men Who Stare at Goats."
(Given that "Up in the Air" is plainly his prime 2009 work, I'd have shuffled things around to ensure he could make it, but never mind.)
Given the raft of glowing notices from Telluride and Toronto — not least Kris's own elated take — my expectations for Jason Reitman's third film couldn't have been any higher as I settled into the press screening this morning. And as the lights came up 100 minutes later, they'd been satisfyingly met in one sense — and left frustratingly dangling in another.
This is exemplary studio moviemaking: thoughtful, carefully crafted and slyly performed, a film that uses comfortable mainstream structures to bring less comfortable questions into the open. Oscar recognition, when it comes, will have been fairly earned — though I wonder if the film is perhaps a little too dry, too delicate, to take gold in the top races.
I completely agree with Kris that Clooney has been gifted with the most self-reflective role of his career, while Anna Kendrick sweet-tart interpretation of a trickily written character is a breakthrough turn. More subtly resonant is Vera Farmiga, faced with the challenge of a character whose intrigue emerges largely with hindsight — it's the film's most oblique turn, and arguably its most impressive.
But for all my enjoyment of the film's immaculate individual elements — the aforementioned performances, Dana Glauberman's whip-smart editing, Jason Reitman's highly resourceful adaptation of a generally inferior novel (though I did miss Walter Kirn's more detailed evocation of so-called Airworld) — the emotional kick it seems to have delivered to so many of my peers and colleagues was missing.
It's as hard to articulate personal disconnection as it is to explain why some art moves one on a gut level — everyone comes to a film with different personal baggage, so there's no solid frame of reference to work with. In any event, as much as I appreciated the film's sensitive, timely evocation of personal and professional ennui in a world increasingly designed to minimize human contact, I rarely felt I was being addressed by an individual as much as I was being pitched a universal malaise that I don't quite share in — and for me, the film assumes its universality a touch too easily.
Still, it's good to see Jason Reitman tackling such tonal range in his still-young filmography — though I could have stood a little more of the loose, spiky texture that characterized his still-undervalued direction of "Juno," a film less cannily written and cleverly assembled than "Up in the Air," but one that moved me more directly on first viewing.