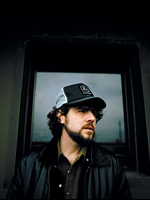 I just finished Scott Teems's "That Evening Sun," which, much like Tom Ford's "A Single Man," is an impressive feature debut that nevertheless has some developmental issues that prevent a powerful narrative of catharsis from being as affecting as it could have been.
There is, however, a fantastic original song in the film from Patterson Hood of the Georgia-based band Drive-By Truckers called "Depression Era" that bears consideration because, at least in my view, it might be the best original song I've heard in a film this year.  The only problem, of course, is that the tune plays over the final credits of the film, which all but guarantees that it won't cut it for the music branch (which has increasingly show a preference for songs used within the context of a film in recent years).
Of course, the film is quite small and will probably end up at the bottom of that screener stack Anne and I were discussing yesterday, but, alas, I feel compelled to mention it.
Teems recently spoke to the Memphis Flyer about the Hood song:
The Truckers have a cultural authority and authenticity, and [their involvement] is a stamp of approval, in my mind, to a project's authenticity. We experimented with a few different ways for Patterson to be involved [in That Evening Sun]. He wrote a few songs, including an original, "Depression Era." I'm biased, but I think it's one of the best songs he's ever written.
I'm going to add it to the list of contenders anyway, which is now 21 songs strong.  Also added recently is Paul McCartney's "(I Want To) Come Home" from "Everybody's Fine," which finds itself in the "other possibilities" section because, like "Depression Era," it unfortunately plays over the end credits rather than in the context of the film.