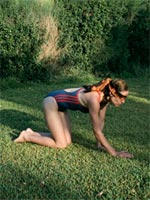 Once more, Friday's major festival screenings covered ground I'd already trod in Venice — the day's glossiest gala slot was reserved for "The Road" (which you know did little for me), with a less prominent early evening slot for Tom Ford's "A Single Man" (which did rather more).
Given the current buzz levels for each film, they perhaps should have swapped places, but festival programmers can be forgiven for not knowing that in advance.
In fact, it was a crammed day for anyone hoping to catch up on the hot Venice titles, including "Life During Wartime," "The Double Hour" and "White Material," still my film of 2009 so far. (Friend and critic Tim Robey shares my enthusiasm for the film, claiming the LFF will have a hard time topping it. Truth.)
Hard as it was to resist giving "Material" another whirl, I took advantage of my head-start to catch a stark Swedish mood piece and two provocative Cannes winners that had been intriguing me since May, and not only because of Old Man Ebert's proclamation that Brillante Mendoza's "Kinatay" was the worst film ever screened on the Croisette. See if I agree after the cut.
"Dogtooth" (***1/2)
By turns grotesquely funny and ineffably sad, joltingly violent and unsettlingly tender, Greek helmer Yorgos Lanthimos's "Dogtooth," which took Un Certain Regard honors at Cannes, is one of the year's few true originals. Channeling the art of David Hockney in its visual sparseness and the theater of Ionesco in its mounting absurdism, the film ingeniously deconstructs the makeup of a wealthy, normal-looking family via intricate metaphor and brutally cruel satire.
The nameless family comprises a factory-manager patriarch, his subservient wife and three children on the cusp of adulthood — though it quickly becomes clear that the young man and his two sisters have never in their lives ventured beyond the four walls of their expansive suburban property, imprisoned by their simultaneously overprotective and rampantly abusive parents.
We gradually learn the elaborate lengths the parents have gone to ensure their children's mental and emotional retardation, deliberately miseducating them from birth about everything from sex (the mother professes to be pregnant with a dog) to everyday vocabulary (a salt-shaker is renamed a "telephone," among many examples). But when the children's burgeoning sexual impulses necessitate the introduction of a figure from the outside world to the family, their curiosity threatens to overpower the parents' stranglehold.
The possible allegorical resonances of this story are manifold: some have suggested the film specifically comments on Greek history and politics, others may see it as a heightened commentary on the increasing social isolation of the bourgeois classes, while it struck me as a frightening cautionary tale on the dangers of over-parenting. Either way, it's a heady, defiantly strange brew, one that will repel as many as it fascinates with its frank, dispassionate sexuality and gore — cat lovers, you have been warned — but one that rattled me more than any of the more grandiosely shocking headline-grabbers from Cannes.
"Kinatay" (***)
Speaking of which, we arrive at "Kinatay," a grim Filipino tale of extreme police corruption that sparked as much outrage at Cannes as Lars von Trier's "Antichrist," not least when its helmer, current festival mainstay Brillante Mendoza, coolly picked up the Best Director prize. If you were paying even vague attention to the furore at the time, you've by now heard the film's story in a nutshell: a naive police cadet is drafted by one of his superiors into a secret after-hours mission, which turns out to be the merciless rape, murder and dismemberment of a prostitute, a procedure depicted in real time and in shadowy, sometimes wincingly graphic, detail.
It's not hard to see what about the film ruffled so feathers — but accusations that Mendoza is dealing in dangerous or self-gratifying torture-porn prove unfounded as the film, not unlike Gaspar Noé's "Irréversible," reveals its rigid moral framework from the outset. Our perspective mirrors that of the increasingly horrified protagonist throughout; we lose our grasp of the situation together with him and suffer the significant emotional consequences.
Apparently based on true events, the film derives none of the pleasure from its pain that much mainstream genre film does, rather using the horrific central incident to probe social weaknesses. Like his quieter, more recent (and more accomplished) "Lola," the film amounts to a stinging attack on Filipino bureaucracy, sometimes via over-egged symbolism, but often via intelligent observational detail. "Kinatay" is a hard film to love, and an even harder one to like, but it's difficult to stand unaffected by its long night's journey into day.
"Burrowing" (***)
Finally, Henrik Hellstrom and Fredrik Wenzel's oblique, often hypnotically beautiful debut feature "Burrowing" takes a subtler but no less subversive approach than the previous films in teasing apart the threads of a societal fabric, in this case the placid but internally raging residents of a middle-class Swedish suburb. Though narrated throughout  by Sebastien, an introverted but highly perceptive pre-adolescent boy, he is but one member of a troubled ensemble of social misfits, linked by the street they live on, but with wholly disparate stories.
The most moving (and unnerving) of these involves Jimmy, a young single father still living with his parents and ill-equipped to care for the toddler he desperately loves. We are how his situation came to be, but as we observe, we begin piecing together possible histories for his increasingly irrational behavior, and such is the suggestion-driven approach taken throughout by the filmmakers. Not all the strands are as intriguing, and a too-invasive choral score occasionally jars, but the film's mature storytelling and painterly HD compositions make it an exciting debut.