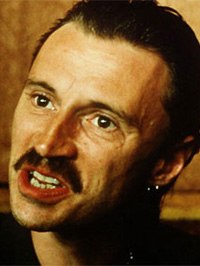 1996 was an odd year, a year when the independent cinema dominated the weak product emerging out of Hollywood. I am going to confess right off the top of this article (as I have numerous times before) that I was not a fan of "The English Patient," which for me remains one of the most vastly over-appreciated films ever made.  I couldn't stand Kristin Scott Thomas's work, though I did enjoy the Dafoe/Binoche storyline.
So with that out of the way, and firmly in mind, let's go…
The Best Actress race was clouded with the notion that Madonna was hell-bent on being nominated for her performance in "Evita," which finally made it to the screen after years of starts and stops. Her performance split critics, but for me lacked the depth and edge that it was given on stage by Patti Lupone, and that Meryl Streep or Michelle Pfeiffer would have given the role. Her performance proved that Madonna should stop acting as she has little or no acting talent, and should stop making movies and trying to conquer Hollywood as she did the music industry.
Honestly, the performance rarely rises above a really good community theater performance. Mercifully she was not nominated, but she did win the Golden Globe for Best Actress in a Comedy or Musical over the eventual Oscar winner, Frances McDormand in "Fargo." The nominees for Best Actress included, McDormand, Kristin Scott-Thomas for the aforementionend "The English Patient," Diane Keaton for "Marvin's Room," Brenda Blythyn in "Secrets and Lies," and best of all, perhaps, Emily Watson in "Breaking the Waves."
Not among the nominees, despite giving fine performances, were Nicole Kidman in "The Portrait of a Lady," Winona Ryder in "The Crucible," Gwyneth Paltrow in "Emma" and Laura Dern in "Citizen Ruth." Streep was also in "Marvin's Room" with Keaton, along with Robert De Niro and Leonardo DiCaprio, giving the film a strong cast. Laura Dern could have easily replaced Scott-Thomas for Best Actress, and Paltrow might have been a stronger nominee than Keaton.
The race for Best Actor gave me nightmares, but that is an old argument. How much screen time before a performance is considered lead? Should screen time matter? Marlon Brando has perhaps 30 minutes of screen time in "The Godfather" and while Al Pacino is clearly the lead, Brando's presence haunts the film, making him, I think, a legitimate winner of Best Actor. Bear with me on this…
The eventual nominees were Geoffrey Rush in "Shine," Tom Cruise in "Jerry Maguire," Woody Harrelson in "The People vs. Larry Flynt," Billy Bob Thornton in "Sling Blade" and Ralph Fiennes in "The English Patient." Strong contenders all, though for me Rush gave more of a supporting performance, given that the character was played by more than one actor.  And his screen time was less than 30 minutes (though again, that has not mattered before).
Rush's performance was still extraordinary, as was that of Noah Taylor, who portrayed the younger version of the character and was equally deserving of Oscar attention. Daniel Day-Lewis finished second in the balloting for the New York Film Critics Circle award for Best Actor and in my opinion gave an electriufying performance as John Proctor in "The Crucible." He should have been in the Oscar race.
I also quite liked Chris Cooper in "Lone Star," Kenneth Branagh in "Hamlet" and Liam Neeson in "Michael Collins," though in hindsight, I am not sure if Neeson's performance was completely worthy. As the years have gone by, I have developed a strong appreciation for Rush's work, which won many critics awards in addition to the Oscar, but I still have a hard time accepting his win over Cruise, who I think gave a delivered considerably.
Best Supporting Actor without Robert Carlyle in "Trainspotting?" How could they?  Carlyle portrayed one of the most intensely terrifying screen characters of the year, in 1996's best film no less, and should have been nominated.  How is it James Woods, a brilliant actor, mind you, was nominated for his over-the-top performance in "Ghosts of Mississippi" while Carlyle was snubbed?
How is it that Armin Mueller-Stahl received what was a surprise nomination for "Shine" as the domineering father while Noah Taylor was ignored for his work? It is perhaps here that both Rush and Taylor could have been nominated.  That might have been cool!
I have no argument with William H. Macy in "Fargo," though I think Steve Buscemi should have also been nominated. The eventual winner, Cuba Gooding Jr., gave a good performance in "Jerry Maguire," but he wasn't as strong as Carlyle, nor Edward Norton in "Primal Fear" or Paul Schofield in "The Crucible."
Let's also throw Willem Dafoe into the mix for "The English Patient" and Nathan Lane in "The Birdcage." How about two more from "Lone Star": Kris Kristofferson and Matthew McConaughey.  This category was stacked in 1996.
Finally, the year's true Best Supporting Actress was also not nominated, though she won the lion's share of the critics awards.  Courtney Love in "The People vs. Larry Flynt" was astonishing and deserved the Oscar over all the nominees, and those not nominated.
When the nominees where announced it seemed that the sentiment was going to carry Lauren Bacall right to her first award, for "The Mirror Has Two Faces," but to everyone's surprise, including Bacall's, Julliette Binoche won for "The English Patient." I remember groaning aloud when I heard Bacall's name announced as a nominee, because that sort of nomination usually translates into an Oscar, a la Don Ameche in "Cocoon." I was pleased the Academy had the courage to award Binoche, who gave the best performance of the nominees.
The other nominees that year were Joan Allen in "The Crucible," Marianne Jean-Baptiste in "Secrets and Lies" and Barbara Hershey in "The Portrait of a Lady." No Renee Zellweger in "Jerry Maguire," though she was deserving, nor Kate Winslet in "Hamlet," who made Helena Bonham Carter's Ophelia in the 1990 version of the same play look ridiculous. Absent but not forgotten.
What are your thoughts on the best performances from 1996?  Have your say in the comments section below!