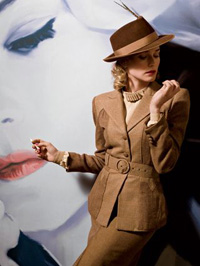 Since I last analyzed the costume design category in July, a number of the contenders are still waiting to be seen, though several have opened and we've seen glimpses from others. While the number of movers and shakers hasn't been enormous, there has still been enough movement – and more insight gained – to warrant another look.
One thing I do not think has changed since the summer is the category's most likely nominee.  While I'm doubtful that she will win, I'm quite confident that Janet Patterson will earn her third nomination for Jane Campion's "Bright Star." While the film did not catch fire to quite the extent I was expecting, I'm nevertheless confident the threads will remain in this branch's mind until the end of the year.
In July, I was torn about whether Colleen Atwood could emerge as a double nominee this year. But "Public Enemies," despite featuring fine period work, seems to have become a distant memory. Even so, I'd be very surprised if she failed to get nominated for Rob Marshall's "Nine."
The great Sandy Powell, on the other hand, has had her three potential nominees reduced to one. With "The Tempest" and "Shutter Island" moved to 2010, it's only "The Young Victoria" that is keeping her in the race. Powell is a giant in the field. But is the film at all memorable?
Another veteran I still expect to find in the race is Jenny Beavan for "Sherlock Holmes." Once a regular, Beavan has been out of the running since 2001's "Gosford Park." I still think that, if this film is a success (something I am admittedly not sold on), Beavan will find herself going to the Kodak once more.
Rising from the summer is Anna B. Sheppard.  Twice nominated for Oscar-winning World War II movies ("Schindler's List" and "The Pianist"), she's looking good for Quentin Tarantino's "Inglourious Basterds." The film did much better than I was expecting, and a lot of range was shown in her work.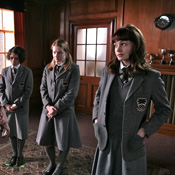 Fading from the summer somewhat is Consolata Boyle, seeking her second nomination for Stephen Frears's "Chéri." Despite being largely forgettable, the threads were exactly the sort this category rewards – and this branch also tends to remember films elsewhere forgotten.  So I think Boyle still has a shot.
"An Education," on the other hand, seems certain to show up in many categories come the end of the year. But Odile Dicks-Mireaux's work strikes me as a tad too subtle for what this category usually rewards.
I have also been skeptical of "Amelia" all year and the lack of buzz continues to make me suspect there's not a lot to this film. That said, if I'm wrong, Kasia Walicka-Maimone will likely be able to compete.  Meanwhile, what we have seen of "Avatar" makes me highly doubtful of Mayes C. Rubeo's chances.
So what films have joined this race that I failed to mention in Jyuly? I'd primarily look to three.
Firstly, the success of Tom Ford's "A Single Man" has somewhat surprised me. It seems as though Colin Firth is an extremely likely candidate for Best Actor, and Ford's eye for the visual cannot be denied. While the 1960s is a tad modern by the standards of this category's usual nominees, Arianne Phillips previously found herself nominated for a similar period ("Walk the Line"), so I think she's firmly in the running.
Secondly, "Creation" finally found itself a distributor, putting Louise Sterjnsward's threads in play. I must admit I have no faith in this film (no pun intended), but the period is exactly the sort that finds a home here. She could be a contender.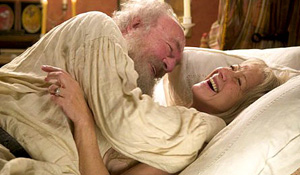 Lastly, and more likely, we have Monika Jacobs for "The Last Station." I'm still not sure what to make of this film, but Helen Mirren and Christopher Plummer seem like potential candidates for nominations. If they were to score, I strongly suspect glimpses to the crafts categories would follow, with this being the most likely.
Fewer and fewer films remain unseen as we make our second trip through the categories. Next week, we take a second look at Best Visual Effects again.
What are your thoughts on the costume design category?  Let us know in the comments section below!