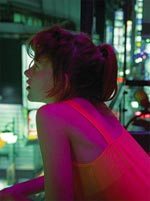 As if sympathetic to the fact that I'd have a pounding hangover from Wednesday's swish opening party in Chelsea, festival organizers were kind enough to schedule a film I'd already seen, "The Men Who Stare at Goats," for the next morning, affording me a much-needed lie-in.
Still, George Clooney's second go-round on the LFF red carpet in as many days was the day's major event. I already weighed in on the film at Venice, though from conversations I've had with others, I'm not finding many supporters for my view that the film is big, silly fun.
Anyway, missing this stop on the Clooney-London express afforded me the chance to catch up with two artier prospects that had been high on my festival priority list, one big (Gaspar Noé's latest Cannes-endorsed provocation "Enter the Void") and one small (Russian playwright Vassily Sigarev's filmmaking debut "Wolfy"). Guess which one was the keeper.
"Enter the Void" (**)
Back in 2002, more column inches were spent on two isolated scenes — an agonizing rape sequence and that fire-extinguisher bludgeoning — than the whole of Gaspar Noé's "Irréversible," but amid the shrill cries of the moral police, the film arguably received insufficient credit for its thoughtfulness (and structural verve) in probing and evaluating the way we respond to onscreen violence. An astonishing technical feat by any measure, it was that rare film that revealed something of the viewer to himself, albeit in an unpleasant fashion.
By contrast, I'm not sure what I learned of myself — or of Gaspar Noé, for that matter — from watching his fatuous follow-up "Enter the Void," which deploys an arsenal of tricked-out technique and a colossal running time of 163 minutes to make the make the startling revelations that death is, like, sad, and that drug-dealing is generally not a good idea.
For the first two-thirds of this narratively skeletal film, Noé largely abandons the aggressive extremities of "Irréversible" in favor of dream-inspired observation, as we track the goalless existence of young American junkie-dealer (Nathaniel Brown) and his stripper sister (Paz de la Huerta) in Tokyo, whose near-incestuous affection we very gradually learn is rooted in a childhood family tragedy. Brown's death after a botched deal alters the film's rhythm less than you'd expect, as we switch from expert POV filmmaking to two hours of vertiginous aerial shooting, intended to represent the perspective of his ghost watching over the girl's grindingly uneventful mental breakdown.
Two hours in, even Noé is weary of this, upon which we move into the act most calculated to provoke, tossing in a graphic abortion sequence, a unique vagina-perspective shot of an invading penis head and 30 minutes of the kind of hard-core, soft-focus action that might ruffle the feathers of those who have never seen any common-or-garden porn in their lives. For all his efforts, any single thematic point — much less any thematic unity — evades us.
Initially, it seems the film's frequently exquisite mise-en-scene and persistent, technically extraordinary sense of movement (courtesy of ace DP Benoît Debie) will tide us over its noodling non-narrative, but the limited range and increasing banality of Noé's imagery cause even its look to pall.
Intoxication is depicted via derivately kaleidoscopic animation, while there are only so many times we need the camera needs to swoop in and out of holes to drive home the film's thumpingly literal title, which at least delivers on its promise of emptiness. "Irréversible" was an admirable test of its audience's sensibilities; "Enter the Void," merely of their endurance.
"Wolfy" (***1/2)
Joining "Fish Tank" and "Precious" in 2009's prominent mini-genre of stories about troubled girls and the mothers who hate them, "Wolfy" marks a startling debut for writer-director Vassily Sigarev, as well as for fireball actress Yana Troyanova, on whose (presumably rather miserable) childhood experiences Sigarev based his script. Tracing the one-way love between an introverted young girl (Polina Plutchek) and her alcoholic, frequently absent mother (Troyanova) from birth to teenage years, the film is necessarily bleak, but escapes standard kitchen-sink territory via Sigarev's surreal, often stunningly sensual visual sensibility that lifts it into the realm of modern fairy tale.
A throat-grabbing opening sequence sets the tone for what will follow, as Troyanova's heavily pregnant character — a lurid vision throughout the film in orange hair and electric-blue dress — stumbles across a snowy plain, pursued by cops after a knife attack. As she goes into premature labor on the ground, blood and snow are married in close-up, and the child's journey into the world continues along a similar balance of violence and purity. (The girl develops a fascination with death, expounded in the film's most fascinating stretch, where she forms a spiritual friendship with a young boy buried in the local cemetery.)
You'll have gathered by now that the film isn't a particularly gentle watch, and Sigarev makes no concessions towards the redemptive impulses that usually color the final act of such stories — we fear as much for mother and daughter alike when we leave them as when we meet them. But Troyanova's electric portrayal, by turns tragic and terrifying, of a woman who was never emotionally equipped to raise a child keeps our sympathies curiously on edge, and she's well countered by Plutchek's refreshingly uncoached intensity.
I enjoy basking in the starry glow of George Clooney as much as the next man, but "Wolfy" is the kind of unnerving discovery that festivals are really about.