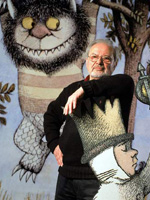 I sat down this morning to watch Lance Bangs and Spike Jonze's "Tell Them Anything You Want: A Portrait of Maurice Sendak," which originally aired on HBO last night, expecting little more than a swift, arbitrary look at the author and perhaps a nice companion piece to Jonze's adaptation of "Where the Wild Things Are." Boy was I in for a surprise.
The film (which is on Oscar's short list for documentary shorts) is instantly one of the 2009's great joys, a compelling, insightful study from the perspective of the genuine article.  And Sendak is indeed the genuine article, a directly honest man who has transformed his take on the world into profound art for most of his 81 years.  And at that healthy old age, he seems equally awed by, and bored with, the realities of the world.
Filming began in 2003 at Sendak's home in Connecticut.  The seasons zip back and forth, spring sunshine to winter snowdrift, as Bangs and Jonze piece together the meat of Jonze's conversations with the author.  The title stems from Sendak's opinion that there should be no demarcation when it comes to age.  "I don't believe in childhood," he says.  "Like, 'You mustn't tell them that,' 'You mustn't tell them that.'  You tell them anything you want…If it's true, you tell them."
The 40-minute film is packed with one captivating anecdote after another, but the centerpiece is Sendak's recounting of the day he saw a photo of the Lindbergh baby's corpse on the cover of the New York Daily News in 1932 (when Sendak was just three years old).
The photo only appeared on early editions of the paper, as Charles Lindbergh threatened to sue upon seeing the grisly image.  The afternoon editions did not carry the photo with the coverage of the body being discovered in the woods a short distance from the Lindbergh home.  That Sendak happened to see it within the short window it was available to the public in that fashion is macabre serendipity, but as he puts it, "That laid the basis of a lifetime."
Furthermore, Sendak's preoccupation with death (he admits to an obsession with the inevitability and brings it up frequently in the film) stems from the moment he saw the image, and the idea that you can die as a child.
And that's just one of a number of moving tales Sendak conveys with matter-of-fact ease.  There is one moment, however, that really stuck out to me, and I think Bangs and Jonze were wise to include it.
In recounting the controversy that met the completion of "Where the Wild Things Are," Sendak says the executives of the publishing house "were already shaking their heads, like they're doing with you now.  That this isn't the kind of book we want to publish.  This is scary."  Jonze's reaction to "like they're doing with you now" was an intriguing moment of sudden introspection.  His sense of finding a kindred spirit in Sendak is etched across his face as his smile fades away.  Beautiful stuff.
I don't know whether the documentary short committee will jump at this or not.  It is, after all, a talking-head piece with little in the way of filmed processes, cinematic strokes, etc. — things that tend to be more appreciated.  But I fell in love with it from frame one.  I imagine others — including committee members — will do the same, so…we'll see.
As for "Where the Wild Things Are," I haven't written about it because there has been an embargo in place (one which was obliterated throughout the week at various outlets).  But I also haven't felt all that passionate about it, so writing about the film hasn't exactly been a priority.
I liked it.  Very much, in fact.  I think Max Records is an absolute talent and a great find.  I think it finds the right thematic rhythms and fully understands the world of a child's mind, the emotional growing pains of youth.  But I think it's a flawed study of those themes.  It suffers from a confused atmosphere, mostly as it pertains to the Wild Things themselves.
I won't comment on the behind-the-scenes speculation, re-shoots, etc., because I can't pretend to be entirely privy to their realities.  But I will say it seems like certain developmental scars are showing throughout.  I was most taken by the early scenes of Max in his home with a single mother (Catherine Keener), moments that resonate wonderfully with a sense of authenticity we've seen in Jonze's work before, but seems incredibly refined here.
"Where the Wild Things Are" opens nationwide tomorrow.  "Tell Them Anything You Want," meanwhile, will re-air on HBO on Friday, October 30.  It will be available On Demand from Monday, October 16.  Get more info here.