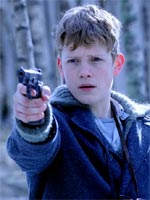 Thanks to regular reader Jonathan for alerting us yesterday to the news that the Dutch have backtracked on their Best Foreign Language Film award, after their first selection, "The Silent Army," was disqualified by the Academy. Martin Koolhoven's well-regarded Second World War drama "Winter in Wartime" will compete in its place.
"The Silent Army" was an unpopular selection in the first place, having been extensively recut after an initial critical mauling, and prompting complaints from Dutch industry insiders that it had too much English dialogue to qualify. In the end, however, it was the former rather than the latter issue that led to its disqualification — the initial cut of "Army" was released in 2008, and Academy rules forbid new edits of previous years' releases from competing.
However it come about, it appears to me that the move is for the best. "Winter in Wartime," based on a locally popular 1972 novel and a  commercial success at home, portrays the final winter of WWII through the eyes of 14 year-old boy, as he secretly harbors a crippled English pilot after the latter's plane is shot down.
I don't think I need to remind you that WWII and children are two of the foreign-language branch's favorite things — not least when they are combined — so this could be one to watch for a shortlist slot. Warm reviews are just gravy: Variety calls it "the perfect blend of classical cinema and arthouse sensitivities." Trailer below.