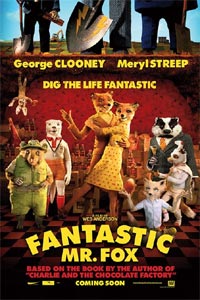 London Film Festival
Rather like two well-matched friends that one sets up on a failed blind date, Roald Dahl and Hollywood really ought to have got along better over the years. Taken at face value, Dahl's rightly beloved children's books should be a cinch to film: the concepts are high, the imagery vivid, the storytelling swift and snappy.
Yet for all these virtues, and for no lack of trying on Hollywood's part, a stone-cold classic filmization of one of his novels still awaits us. Some stand by Mel Stuart's irony-deficient "Willy Wonka and the Chocolate Factory"; others will put in a word for Henry Selick's vividly textured but emotionally inert take on "James and the Giant Peach." No filmmaker has exhibited more understanding of Dahl's cruel streak than Nicolas Roeg, but his largely dazzling "The Witches" still loses its nerve in the final reel with a facile ending.
Though the men share a broad eccentricity, Wes Anderson's fey, faintly solipsistic creative touch once more seems a less-than-perfect match for the nastier, more arch sensibility of Dahl – and there are a few glib missteps in his otherwise appealingly ragged riff on "Fantastic Mr. Fox" that show up the disconnect.
But Anderson has at least been savvy in picking one of Dahl's youngest-skewing, most sweet-natured narratives for his first ever adaptation. The brevity and elemental simplicity of the book's survival-themed tale provides a lot more room for Anderson's trademark affectations and diversions – be it the familiar 1970s-style duds or a jangly nonsense ditty from Jarvis Cocker – than Dahl's later, darker work would.
With its multiple in-jokes and smart-alec visual details, Anderson has ostensibly brought "Fantastic Mr. Fox" to an adult audience, but the truth is that his familiar faux-naif stylings register more sincerely in a children's film than in his previous work. As a Dahl fan, I was unmoved; as an Anderson agnostic, I was gently, unexpectedly charmed.
Though significant liberties have been taken, Anderson hasn't made much effort to expand or complicate the book's lean narrative, wherein the rakish fox of the title (voiced by George Clooney) is forced underground – facing familial discord and potential starvation – by vengeful farmers weary of his regular poaching.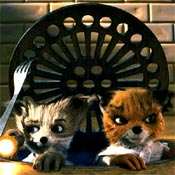 Even while moving at a comparatively languid pace for a family feature, the film resolves Dahl's key conflicts in under an hour, setting the stage for an Anderson-invented final act that's little more than an entertaining victory lap, repeating story beats via increasingly elaborate set pieces.
As such, for all his stated devotion to the source material, I'm not sure Anderson makes clear his grasp of what this story is about: where Dahl's story (and, indeed, the film's first half) centers on a family man's guilt-ridden quest to provide for his family, the film's climactic act lowers the stakes with a far slighter motive, as Fox and his merry band of misfits conspire to retrieve his tail, shot off by a farmer earlier in the film.
The transition from a family's hunger to a dandy's vanity as our point of empathy in the film never quite coheres, but Anderson acolytes are unlikely to be bothered by this, as "Fantastic Mr. Fox" has enough high spirits – and arouses enough visual fascination – to keep us distracted from its storytelling weaknesses.
Always a filmmaker to place environment before character, Anderson, in collaboration with gifted production designer Nelson Lowry, has fashioned his most meticulous, richly imagined story world to date, an autumn-hued, oddly pleasing fusion of the director's trademark retro-Americana and bucolic English rusticity. (The film is set in Britain, though the world of its animal characters is wholly American.)
The medium of stop-motion animation complements Anderson's obsessive preoccupation with costuming and set-dressing beautifully: details that can seem overbearingly precious in his live-action work here lend the film a handmade quality that enriches the action rather than stifling it.
Also transferring surprisingly well to the medium is the nimble chemistry of Anderson's ensembles – Fox and his cohorts interact with a loose conversational ease that can be difficult to capture in animated form, aided by wry voice work from the likes of Bill Murray and Willem Dafoe.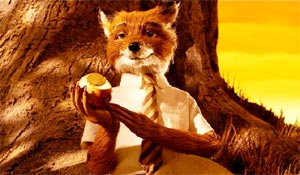 Clooney's Fox is perhaps overly informed by the star's own man-about-town persona, which hinders our emotional investment somewhat; happily, Meryl Streep's pitch-perfect contribution as Fox's wife locates the right amount of desperation beneath the drollery, in the characterization that hews closest to Dahl's book.
Quite who the film is for is never made clear: it's perhaps too leisurely and too remote for kids raised on the crisp storytelling of Pixar films, and too twee for the less specialized adult audience. Ultimately, it's hard to shake the suspicion that Anderson made the film for precisely nobody but himself, which is fine – he seems to have realized that the holding pattern of his recent features called for a major formal overhaul.
That the switch to animation (and the merger with a distinct literary voice) has resulted in a film that is both quintessential to Anderson's oeuvre, while being more genial and less fussy than anything he's yet made, suggests this could be a detour worth continuing. Hollywood's great Roald Dahl movie, however, remains elusive.
Related Posts