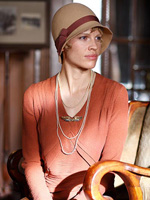 We're slowly rounding out the list of honorees at this year's Hollywood Film Festival, a slate of "winners" that I'd be inclined to call the result of, well, hard-working publicists getting the word out on their clients rather than honest-to-God consideration of artistic merit, but hey, tis the season.
Today, Hilary Swank has been announced as the recipient of the Hollywood Actress Award for her work in the upcoming (and, nine days before released, still unscreened outside of a handful of people) "Amelia." She joins Robert De Niro and Julianne Moore in the major acting awards camp.  We're still waiting on the announcement of the Hollywood Supporting Actor Award.
The gala ceremony will take place October 26 in Beverly Hills.  Also right around the corner is the Gotham Awards.  We're wading out into it now.  Check out the full list of presently announced Hollywood Film Fest winners after the jump.
Hollywood Actor Award: Robert De Niro, "Everybody's Fine"
Hollywood Actress Award: Hilary Swank, "Amelia"
Hollywood Supporting Actress Award: Julianne Moore, "A Single Man," "The Kids Are Alright," "Chloe"
Hollywood Director Award: Kathryn Bigelow, "The Hurt Locker"
Hollywood Producer Award: Ryan Kavanaugh, "Brothers," "Nine," etc.
Hollywood Screenwriter Award: Nora Ephron, "Julie & Julia"
Hollywood Breakthrough Actor Award: Jeremy Renner, "The Hurt Locker"
Hollywood Breakthrough Actress Award: Carey Mulligan, "An Education"
Hollywood Comedy Award: Bradley Cooper, "The Hangover"
Hollywood Breakthrough Screenwriter Award: Scott Neustadter, Michael H. Weber, "(500) Days of Summer"
Hollywood Animation Award: "Up"
Hollywood Cinematographer Award: Roger Deakins, "A Serious Man"
Hollywood Composer Award: Alexandre Desplat, "Cheri," "Coco Before Chanel," "Fantastic Mr. Fox," "Julie & Julia," "A Prophet"
Hollywood Costume Designer Award: Colleen Atwood, "Nine"
Hollywood Editor Award: Dana Glauberman, "Up in the Air"
Hollywood Production Designer Award: Rick Carter, "Avatar"
Hollywood Visual Effects Award: Scott Farrar, "Transformers: Revenge of the Fallen"
New Hollywood Award: Gabourey Sidibe, "Precious"
Hollywood Spotlight Awards: Shorheh Aghdashloo, Paul Schneider, Melanie Lynsky, Zachary Quinto