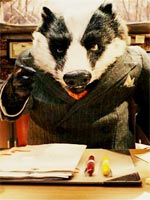 (Apologies for the "Fantastic Mr. Fox" review that appeared prematurely here as a result of embargo confusion. It will be reposted later today.)
There may have been silence on my end these past few days, but I assure you it hasn't been for lack of activity. The days leading up to the London Film Festival — which officially kicks off tonight with the world premiere of Wes Anderson's "Fantastic Mr. Fox" — have been crammed with press screenings and assorted admin duties.
Yesterday, meanwhile, was given over to the film's extraordinarily elaborate, and most enjoyable, press junket, staged across a range of picturesque locations in Roald Dahl's home village of Great Missenden, an hour's train ride from London. (More on that later.) Fox has spared no effort or expense in the launch for this unusual film, which culminates tonight with the LFF Opening Gala party at the Saatchi Gallery in Chelsea.
This unprecedentedly glitzy beginning to the LFF is indicative of the festival's recently increased financial muscle, which accounts for a higher international press presence, more prominent marketing and the addition of starry press conferences to its usual routine. Combined with overhauled awards system — as well as the introduction of several new prizes, including one for Best Film, the festival will stage a formal awards ceremony for the first time — these are signs of a festival making its bid for global status.
For my part, between dusting off  my dinner jacket for tonight's festivities, dashing to this afternoon's press conference (George Clooney and Meryl Streep in attendance), and hopefully (if improbably) squeezing in a screening of Australian title "Balibo," there's not time for much else — but tomorrow, it's daily festival business as usual, as less star-spangled movies get their day in the sun.
Based on the two weeks of festival pre-screenings I've already attended, and whatever I can fit in over the next fortnight, I'll be bringing you daily updates, rounding up the day's films in capsule, while spotlighting the occasional larger title in a full review. With over 190 features on the menu, I can hardly hope to catch everything of value — even with Venice having given me a head start on several major LFF gala titles like "A Single Man" and "The Men Who Stare at Goats," the programme is a daunting one.
Festivals always pose something of a dilemma for serious film lovers. Do you take the tempting early opportunity to catch the tasty high-profile titles that arrive with lavish reams of hype? Or do you take a chance on unheralded work that may or may not be a valuable discovery? Given the limited distribution potential for so many film in the latter category, one has to favor the latter — but it can amount to a cinephile's game of blind man's buff.
Happily, the LFF's morning press screenings allow critics the best of both worlds: in the next week, for example, I'll finally get to lay eyes on the twin Cannes sensations of Michael Haneke's "The White Ribbon" and Jacques Audiard's "A Prophet" without cutting too much into my screening schedule.
But as much as my mouth is watering for those titles — not to mention assorted festival hits from the past year ranging from "Up in the Air" to Berlin champ "The Milk of Sorrow" to Aussie Oscar hopeful "Samson and Delilah" — I'm as excited for the films I can't see coming. Last year, for example, I was knocked sideways by "Three Blind Mice," a stinging black comedy about which I knew nothing going in, and keep coming back to a whole year later. Such are the moments that really make festivals.
The LFF films I've seen so far have been a distinctly mixed bunch, encompassing a number of intriguing almost-there auteur efforts (Andre Techine's "The Girl on the Train," for example) and, I'm afraid to say, a fair few misfires. (I'll get into the regrettable likes of Amerindie waffle "The Exploding Girl" and name-heavy British gangster flick "44 Inch Chest" in due course, but it's not going to be pretty.)
Still, smaller pleasures like Eugene Green's mischievously comic existential essay "The Portuguese Nun" and South African debutant Oliver Hermanus's terse, moving character study "Shirley Adams" make the gamble worthwhile.
The next few days alone pose a number of tough choices: I'm eager to catch Vassily Sigarev's "Wolfy" an adult fairy tale that arrives with glowing notices from Karlovy Vary, but it'll be in a juggling act with Gaspar Noe's Cannes talking-point "Enter the Void" and Frederick Wiseman's highly regarded doc "La Danse."
Such will be the pattern for the next two weeks. Among the many titles on my priority list are such disparate titles as Greek arthouse sensation "Dogtooth," much-buzzed Scandinavian sci-fi animation "Metropia," Kristin Scott Thomas's latest French-language starrer "Leaving" and the close-to-home (for me, anyway) doc "Have You Heard From Johannesburg: The Bottom Line." So much to see, in other words, that I fear I won't even have time to revisit my favorite film of 2009 so far, Claire Denis's "White Material."
All of which makes the festival's closing night, and the premiere of Sam Taylor-Wood's much-anticipated John Lennon biopic "Nowhere Boy," seem very far away indeed. Let's see how we go.