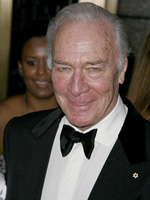 AFI Fest is right around the corner here in Los Angeles.  Wes Anderson's "Fantastic Mr. Fox" has already been announced as the opening night gala.  Today's release reveals that Tom Ford's "A Single Man" will close out the fest.
Additionally, tributes have been announced for Viggo Mortensen (his second festival tribute of the season, FYI) and Christopher Plummer (shrewd move by Sony Classics to get that).  Terry Gilliam's "The Imaginarium of Doctor Parnassus" will be the centerpiece gala.
The film schedule has been revealed, which is the usual blend of other festival titles that have played elsewhere throughout the year, but one key screening for me is a 50th anniversary celebration of Alfred Hitchcock's "North by Northwest." William Friedkin will be moderating a Q&A with the film's stars, Eva Marie Saint and Martin Landau.  That's a priority.
The stop-motioned animated "A Town Called Panic" is on the docket, a film we told you last week won't be qualified for this year's animated feature film Oscar race.  Devin Faraci at CHUD recently flipped for the film.
"City of Life and Death," "Fish Tank," "The Hole," "Mother," "Looking for Eric," "Vincere," and "Youth in Revolt" will be my catch-up titles, stuff I've missed along the way.  Other selections include "Precious," "The Road" and "The Last Station."
Read the full press release after the jump…
LOS ANGELES (October 14, 2009)—AFI FEST 2009 presented by Audi today announced the complete lineup of films for the 23rd edition of the Festival, including the Closing Night Gala, Centerpiece Screening, Tributes and Special Presentations.
The Weinstein Company's A SINGLE MAN has been selected as the AFI FEST Closing Night Gala presentation. A SINGLE MAN will make its US Premiere at Grauman's Chinese Theatre on Thursday, November 5, 2009.
Sony Pictures Classics' THE IMAGINARIUM OF DR. PARNASSUS has been selected as AFI FEST's Centerpiece Screening Gala presentation. THE IMAGINARIUM OF DR. PARNASSUS will make its US Premiere at Grauman's Chinese Theatre on Monday, November 2, 2009.
The Closing Night Gala presentation of A SINGLE MAN features the directorial debut of fashion designer Tom Ford from his script adaptation of Christopher Isherwood's acclaimed novel. The film follows a day in the life of a gay British college professor in Los Angeles as he attempts to cope with the death of his partner. Ford's work helming the project and Colin Firth's lead performance in the film have received critical acclaim following screenings at the Venice and Toronto film festivals. Julianne Moore, Matthew Goode and Ginnifer Goodwin also star in the film. The Weinstein Company release is due in theaters on December 11.
Ford, Firth and Moore are scheduled to attend.
"It is exciting to champion a talented artist like Tom Ford as he moves beyond the boundaries of one medium into another. In A SINGLE MAN, he delivers an elegant and beautiful personal story that will resonate with all audience members" said AFI FEST Artistic Director Rose Kuo.
The Centerpiece Screening Gala presentation features the latest work by director Terry Gilliam. THE IMAGINARIUM OF DR. PARNASSUS follows the leader of a traveling theater troupe who, having made a deal with the devil, takes audience members through a magical mirror to explore their imaginations. The film stars Christopher Plummer, Tom Waits, Johnny Depp, Jude Law, Colin Farrell and Heath Ledger in his final role. The Sony Pictures Classics release is due in theaters stateside on December 25.
Gilliam and Plummer are scheduled to attend.
"The mind-altering, looking-glass world that Terry Gilliam creates in THE IMAGINARIUM OF DR. PARNASSUS," notes Director of Programming Robert Koehler, "is like a model for his ideal cinema, in which anything can happen and all rules are broken. If audiences thought that THE DARK KNIGHT was their last glimpse of Heath Ledger, then what Ledger brings to Gilliam's fantasy-adventure will surprise them."
AFI FEST has selected actors Christopher Plummer and Viggo Mortensen to receive tributes at this year's Festival. Sponsored by the Skirball Cultural Center, Plummer's tribute event will precede the screening of his film THE LAST STATION on Tuesday, November 3. Mortensen's tribute will precede the US Premiere of the film THE ROAD on Wednesday, November 4. Both Tributes will take place at Grauman's Chinese Theatre in Hollywood.
One of the world's most respected actors, Plummer has won two Tony Awards (for CYRANO and BARRYMORE), three Drama Desk Awards, the National Arts Club Medal and two Emmys. He was a leading member of Laurence Olivier's Royal National Theatre and Peter Hall's Royal Shakespeare Company. Since appearing in Sidney Lumet's STAGE STRUCK (1958), his more than 100 films have included WIND ACROSS THE EVERGLADES (1958), THE SOUND OF MUSIC (1965), WATERLOO (1970) and TWELVE MONKEYS (1995), THE INSIDER (1999), A BEAUTIFUL MIND (2001), SYRIANA (2005) and INSIDE MAN (2006). He stars as Leo Tolstoy in THE LAST STATION and plays the title role in THE IMAGINARIUM OF DR. PARNASSUS.
John Hillcoat THE ROAD is adapted from the acclaimed novel by Cormac McCarthy, THE ROAD stars Mortensen as a father making his way with his young son across the scorched landscape of a post-apocalyptic world. Directed by Hillcoat from a script by Joe Penhall, the film also stars Charlize Theron, Robert Duvall, Guy Pearce and Molly Parker. The Weinstein Company release is due in theaters November 25.
Mortensen, Hillcoat and Theron are scheduled to attend.
From his debut in Peter Weir's WITNESS (1985) to his signature role of Aragorn in Peter Jackson's LORD OF THE RINGS trilogy, Mortensen's career has been highlighted by intensely stunning portrayals of men of strict and uncompromising character dealing with a shifting moral universe. Notable films include Sean Penn's INDIAN RUNNER (1991), Gregory Widen's THE PROPHECY (1995), Ridley Scott's G.I. JANE, Tony Goldwyn's A WALK ON THE MOON (1999), David Cronenberg's A HISTORY OF VIOLENCE (2005) and EASTERN PROMISES (2007)—for which he received Golden Globe and Academy Award nominations—and Ed Harris' APPALOOSA (2008).
"Viggo Mortensen and Christopher Plummer are two actors and film artists of the highest order," said Kuo. "They share that rare trait of being looked up to by audiences and film fans around the world as well as being greatly respected by their peers."
Other highlights among the complete film schedule announced today include Jonathan Demme's music documentary NEIL YOUNG TRUNK SHOW (with Demme and Young confirmed to attend) and the screening of two films connected by legendary art director and longtime AFI Conservatory Distinguished Lecturer Robert Boyle, who turned 100 on October 10. Those films are AFI Conservatory Alumnus Daniel Raim's (Production Design '99) documentary SOMETHING'S GONNA LIVE and Alfred Hitchcock's classic NORTH BY NORTHWEST, celebrating its 50th anniversary this year.
A follow-up to Raim's Oscar-nominated documentary, THE MAN ON LINCOLN'S NOSE, SOMETHING'S GONNA LIVE profiles Boyle (THE THOMAS CROWN AFFAIR, THE BIRDS) and renowned art directors Henry Bumstead (TO KILL A MOCKINGBIRD, THE STING), Harold Michelson (STAR TREK: THE MOTION PICTURE, CATCH-22) and Albert Nozaki (THE WAR OF THE WORLDS, THE TEN COMMANDMENTS), as well as master cinematographers Conrad Hall (IN COLD BLOOD, BUTCH CASSIDY AND THE SUNDANCE KID) and Haskell Wexler (WHO'S AFRAID OF VIRGINIA WOOLF?, IN THE HEAT OF THE NIGHT). From snapshots, sketches and vintage footage interwoven with interviews and new scenes of these octogenarian artists at work, we get a behind-the-scenes look at master moviemaking.
Boyle and Wexler will attend the World Premiere screening.
On Monday, November 2, AFI FEST, in conjunction with Warner Home Video will present a special screening of Hitchcock's NORTH BY NORTHWEST. The first Hitchcock film to be released on Blu-ray, the film has been restored and remastered for its 50th anniversary. As part of the Gala event, director William Friedkin will attend to moderate a Q&A with Boyle and the film's stars Eva Marie Saint and Martin Landau.
Koehler noted, "In our 23rd year, our programming seeks to shine a light on an international cinema landscape filled with brilliant young filmmakers forging fresh, unexpected pathways, documentarians on a quest for truth, and a fascinating survey of stop-motion animation (FANTASTIC MR. FOX, IN THE ATTIC, A TOWN CALLED PANIC), while delivering what AFI FEST has done from the beginning—offering audiences a view of the vastness of cinema across the world."
AFI FEST continues its unique and successful association with the American Film Market with 23 of the features in official selection at AFI FEST represented by distributors at AFM, unfolding concurrently with AFI FEST from November 4–November 11. The following films are among those that will participate in the market and screen at the festival: AFTER.LIFE; THE BAD LIEUTENANT: PORT OF CALL, NEW ORLEANS; BELLAMY; CITY OF LIFE AND DEATH; EVERYONE ELSE; FIRST OF ALL, FELICIA; FISH TANK; THE HOLE; THE IMAGINARIUM OF DR. PARNASSUS; KANIKOSEN; THE LAST STATION; THE LOVED ONES; THE MESSENGER; THE MILK OF SORROW; MOTHER; NEIL YOUNG TRUNK SHOW; PRECIOUS: BASED ON THE NOVEL PUSH BY SAPPHIRE; THE ROAD; THE SILENT ARMY; A SINGLE MAN; THE TWO HORSES OF GENGHIS KHAN; WOMAN WITHOUT PIANO; YOUTH IN REVOLT.
Enhancing the AFI FEST/American Film Market alliance, the final two days of AF FEST (November 6-7) will screen at the Laemmle's Monica 4-plex, 1332 2nd Street, Santa Monica, in close proximity to AFM headquartered activity.
AFI FEST 2009's overall lineup will showcase 67 features (54 narrative, 13 documentary) and 26 shorts for a total of 93 films from 32 countries.
The breakdown by section is Galas/Tributes (7), New Lights Competition (11), Special Presentations (3), Documentary (13), World Cinema (27), Alt_Cinema (6) and Shorts (26).
The Festival is headquartered at the Hollywood Roosevelt Hotel. All screenings from October 30–November 5 will take place at the Grauman's Chinese and Mann Chinese 6 theaters in Hollywood with the final two days of the Festival (November 6-7) screening at the Laemmle's Monica 4-plex in Santa Monica.
Free tickets to all Festival screenings are available online at AFI.com/AFIFEST or by phone at 866-AFI-FEST beginning October 16, at the Mann Chinese 6 Theatre (6925 Hollywood Blvd.) in the Hollywood and Highland Center) beginning October 26, and on the day of scheduled screenings via Rush Lines. Early entry to all screenings can be secured by becoming a patron of the Festival and purchasing an AFI FEST Patron Pass. For more details, visit AFI.com.