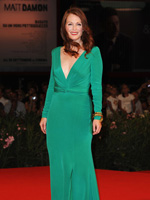 New awards announced today via press release include Julianne Moore for the Hollywood Supporting Actress Award (for "A Single Man," among other films), Bradley Cooper for the Hollywood Comedy Award (something had to go, by proxy, to "The Hangover," I guess) and Ryan Kavanaugh for the Hollywood Producer Award.
Additionally, Shohreh Aghdashloo, Melanie Lynsky, Paul Schneider and Zachary Quinto have been selected for the Hollywood Spotlight Awards, making the whole thing a giant grab-bag for all.
Full list of honorees announced so far after the jump.
Hollywood Actor Award: Robert De Niro, "Everybody's Fine"
Hollywood Supporting Actress Award: Julianne Moore, "A Single Man," "The Kids Are Alright," "Chloe"
Hollywood Director Award: Kathryn Bigelow, "The Hurt Locker"
Hollywood Producer Award: Ryan Kavanaugh, "Brothers," "Nine," etc.
Hollywood Screenwriter Award: Nora Ephron, "Julie & Julia"
Hollywood Breakthrough Actor Award: Jeremy Renner, "The Hurt Locker"
Hollywood Breakthrough Actress Award: Carey Mulligan, "An Education"
Hollywood Comedy Award: Bradley Cooper, "The Hangover"
Hollywood Breakthrough Screenwriter Award: Scott Neustadter, Michael H. Weber, "(500) Days of Summer"
Hollywood Animation Award: "Up"
Hollywood Cinematographer Award: Roger Deakins, "A Serious Man"
Hollywood Composer Award: Alexandre Desplat, "Cheri," "Coco Before Chanel," "Fantastic Mr. Fox," "Julie & Julia," "A Prophet"
Hollywood Costume Designer Award: Colleen Atwood, "Nine"
Hollywood Editor Award: Dana Glauberman, "Up in the Air"
Hollywood Production Designer Award: Rick Carter, "Avatar"
Hollywood Visual Effects Award: Scott Farrar, "Transformers: Revenge of the Fallen"
New Hollywood Award: Gabourey Sidibe, "Precious"
Hollywood Spotlight Awards: Shorheh Aghdashloo, Paul Schneider, Melanie Lynsky, Zachary Quinto