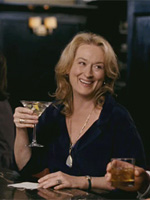 It's been interesting to note that many of the conversations concerning the Oscar race that I've had with people lately revolves around category placement for a number of the year's contenders.  It was a topic Anne and I addressed directly in Friday's Oscar Talk, in fact.
There tends to be dueling ideologies on this, as well as what makes a performance a lead and what makes it supporting.  But purely from a marketing standpoint, it's understandable that sometimes studios might play the landscape of the picture for an array of acting shots on goal rather than perhaps be true to the realities (that are, again, subjective) of the role within the narrative.
We mentioned the anticipated classification of Marion Cotillard and Vera Farmiga in the lead actress category for "Nine" and "Up in the Air" respectively in the podcast, but as Pete Hammond points out in a recent Notes on a Season item, the category musical chairs are taking place elsewhere, too.
"The Last Station," Hammond reports, is being played by Sony Pictures Classics as a supporting vehicle for Christopher Plummer rather than a leading one.  If so, smart move:
According to studio sources never-nominated veteran star Christopher Plummer is going in the supporting category for their December release, "The Last Station," a movie in which he stars as Leo Tolstoy opposite Helen Mirren as his wife. Mirren is being pitched for Lead Actress even though their actual screen time is similar. Is it a coincidence that there is perceived lesser competition in the Best Supporting Actor race this year, than the crowded Best Actor contest? Or that there seems to be less competition in Best Actress than in the logjam over at Supporting Actress? Crafty, those Sony Classics consultants are. Plus they were facing an added problem with another of their December releases, "The Imaginarium of Doctor Parnassus" in which Plummer plays the title role. In the same letter they are suggesting Plummer as Best Actor for that picture.
There's that false perception of the lead actress race as "weak" again, but anyway, like I said, I think this is wise.  I've been saying since day one that Plummer's performance isn't the grand slam, dominating leading turn that might be expected of a film in which he plays a character such as this.  And that could hurt the perception of an otherwise fine supporting performance as a result.  Classifying the turn honestly might pay off.
Hammond also notes that James McAvoy will be relegated to lead, which is precisely where I think he should be.  Actually landing a nomination is a different story.
Meryl Streep is mentioned in the Notes on a Season piece, very much in direct competition with herself with "It's Complicated" and, of course, "Julie & Julia." The suggestion is that her role in the latter could be pushed into a supporting campaign.  That's how I saw things at the start of the season, but she seems to have too much going for her there now.
All in all, it is indeed dizzying.  There was even a rumor that Christoph Waltz would go lead for "Inglourious Basterds" (totally not happening).  Tis the season of confusion…