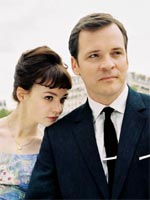 • After a quiet week for awards news, this week's Off the Carpet column contemplated the depth of the Best Actress race.
• A topic that Kris and Anne also debated in this week's episode of Oscar Talk.
• Speaking of Best Actress, "An Education," with its nomination-bound performance by Carey Mulligan, finally hit theaters this week.
• And speaking of Mulligan, she placed highly in our list of the Top 10 actors under 30.
• As it looks increasingly likely that the Best Animated Feature category will feature five nominees this year, "Cloudy With a Chance of Meatballs" stands to gain.
• While we're on that, Sony had a great week at the box-office, with "Zombieland" and "Cloudy" topping the chart.
• This week's installment of The Long Shot urged indie studios not to smother their awards hopefuls in the December crush.
• Back to Oscar, we wondered if non-Americans' unfamiliarity with Julia Child could factor in Meryl Streep's chances.
• With the foreign-language film longlist almost complete, we made some early guesses in that race.
• We weighed in on the "Paranormal Activity" phenomenon, and the horror genre in general.
• Let the games begin: "Anvil! The Story of Anvil" is first out the gate with Oscar screeners.
• Tech Support took a second look at the Best Sound Editing category.
• With the question of who will host the Oscarcast surfacing again, we made cases for Steve Martin and Tina Fey … and Brett Favre.
• With the London Film Festival starting next week, they revealed the contenders for their new Best Film award.
• And finally, InContention turns quote-whore on ya for "A Serious Man." (Just kidding!)