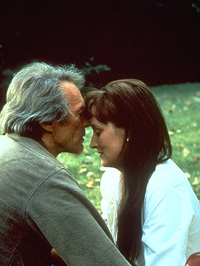 Based on some of the comments I received last week regarding my article on great acting, I took the suggestion of a young lady and am kicking off a series of articles, one per week, that will explore the best performances ofeach year, beginning today with 1995.  So let's go back and work our way towards 2008 and discover the great film performances we know about, and maybe a few we do not.
The Academy did a pretty fine job in 1995 when it came to the acting nominees.  Sure there was some shock when John Travolta was snubbed for his superb work in "Get Shorty," and those hoping for a three-peat with Tom Hanks missed it when the actor was not nominated for his solid work in "Apollo 13." I personally would like to have seen Clint Eastwood nominated for his wonderful work in "The Bridges of Madison County," but there are just five slots open, and so many fine pieces of acting.
One could also argue for Morgan Freeman and Brad Pitt, both excellent in David Fincher's "Seven," or Bruce Willis, who was nobly brilliant in "Twelve Monkeys," and perhaps even Jack Nicholson in "The Crossing Guard."

Nobody could argue with Nicolas Cage in "Leaving Las Vegas," Sean Penn in "Dead Man Walking" or Anthony Hopkins for "Nixon" as Best Actor nominees.  And frankly I believe Penn gave the best performance of the year, one for the ages in fact. However, Richard Dreyfuss in "Mr. Holland's Opus?" Seriously?  I love Dreyfuss and I think he's even been short-changed in the past, but come one.  He does fine work and it's not his fault the script asks him to be mushy and sentimental, but I have struggled with his nomination over Hanks, Travolta and Eastwood for many years.
Massimo Troisi in "Il Postino?" He was a good actor who gave many great performances, but this was not among the top five leading turns of the year.  I know the man died right after making the film, but let's call it as it is.
For the ladies, one has to wonder why Julianne Moore missed the cut for her haunting performance in "Safe," one of her best performances, and Todd Haynes's breakthrough feature. The nominees that year — again, Oscar called them pretty good — were Susan Sarandon in "Dead Man Walking," Elisbaeth Shue in "Leaving Las Vegas," Meryl Streep in "The Bridges of Madison County," Emma Thompson in "Sense and Sensibility" and, are you ready for it, Sharon Stone in "Casino." Now Stone did not ruin the film, nor did she look out of place in the film, Scorsese is much too fine a director to allow that, but come on.
How about Nicole Kidman, who gave her first great performance in Gus Van Sant's black comedy "To Die For?" Kidman won the Golden Globe for comedy (as did Travolta) but neither wins turned into an Oscar nod.  Jennifer Jason Leigh also gave a soul-shaking performance in "Georgia" that won her the New York Film Critics prize for Best Actress, but no nomination from the Academy.
Perhaps the Best Actor category might have been Cage, Penn, Hopkins, Travolta and Eastwood, while the ladies might have been Moore, Streep, Shue, Sarandon and Leigh. Those 10 performances, for me, were the finest lead performances of 1995.
As far as supporting work goes, the Academy honored Kevin Spacey in "The Usual Suspects" and Mira Sorvino in "Mighty Aphrodite," both brilliant performances, both deserving.
I felt bad for Ed Harris, who did stunning work in "Apollo 13 " in one of his best roles in years, and for Joe Pesci, who was terrifying again in "Casino" and to his credit gave a very different performance than he did in "Goodfellas." Pesci was not nominated but might have been a stronger choice than James Cromwell in "Babe," one of the more bizarre nominations of the year.
Are the we really supposed to believe that Cromwell, a reliable old character actor, did stronger work than Kevin Bacon in "Murder in the First" or Don Cheadle "Devil in a Blue Dress?" The Supporting Actor nominees might have been Bacon, Harris, Spacey, Tim Roth in "Rob Roy" and Cheadle, and that would have been just fine by me.
For the women in the Best Supporting Actress category, this is where Stone might have fit in much better.  Though it is hard to argue with the nominees: Joan Allen in "Nixon," Kate Winslet in "Sense and Sensibility," Kathleen Quinlan in "Apollo 13," Mare Winningham in "Georgia" and the winner, of course, Sorvino.
Stone might have bumped Quinlan, or perhaps Anjelica Huston could have squeezed in for her heartbreaking work in "The Crossing Guard," but no one else, as the Academy nailed that category, in my opinion.
Next week we'll tackle the performances of 1996.
What were your favorite performances of 1995?  Have your say in the comments section below!