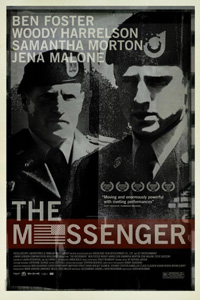 There is a film that succeeds as a cerebral drama, concerned with the impact of war on the individual, free of the genre's typical tropes and remarkably fresh as a result.  And believe it or not, I'm not talking about "The Hurt Locker."
Of course, it is unfair to Oren Moverman's "The Messenger" to so quickly evoke the name of one of the year's most critically acclaimed films by way of comparison.  And Kathryn Bigelow's sterling 2009 gem doesn't deserve to be jerked down a peg by showcasing the merits of another, more under-the-radar film.
But the fact remains, these two efforts are departures from the status quo in a dramatic subset that is perhaps more artistically important now than it has been in 60 years.  And Moverman's film has settled, for this viewer, much more completely than Bigelow's.  It instantly stands out as one of the year's most powerful dramas.
The nuts and bolts of the story concern a pair of military officers charged with the heavy burden of notifying next of kin in the event of a combat casualty.  Woody Harrelson's Anthony "Tony" Stone has been wading through the waters of this "sacred" task for some time and has come to identify its importance with a strict regimen followed each time out.
Ben Foster's Will Montgomery, meanwhile, has been relegated to Tony's charge in the wake of a heavy combat experience.  He is neither comfortable with the emotional workload of the job nor, seemingly, convinced of its importance over his battlefield duties.
The narrative isn't focused in any traditional manner.  It serves up what is, essentially, a series of vignettes, Tony and Will notifying next of kin in a variety of atmospheres.  These are powerfully acted by supporting, basically cameo players such as Peter Friedman, Halley Feiffer, Steve Buscemi and Angel Caban, among others.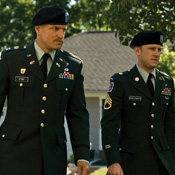 These scenes are broken up by a romantic interest that develops between Will and Olivia (Samantha Morton), one of the widows he and Tony are ordered to inform.  However, this anchored dramatic through line, which goes a long way toward establishing Will's compassion and offers Foster a chance to stretch his less intimidating side, doesn't speak to the power of the piece's message as definitively as the scenery.  The story of "The Messenger" is its incredibly refined ensemble.
Each notification is as difficult and gut-wrenching as the last.  Gone are the sanitized depictions of similar situations in efforts driven by subtle melodrama.  These moments are authentic and lean.  They depict a spectrum of the American experience without flirting with cliche.
Additionally, Moverman makes great use of long takes that capture impeccable, blemish-free work from his actors.  Foster in particular seems better served by the camera's allowing his moments to ebb and flow.  The centerpiece of the film would have to be an extended exchange between Will and Olivia that ends in a cathartic moment of self-consideration for the former.
All of this leads seamlessly to one of the film's final emotional scenes — a rare moment of weakness from Tony following a front-line account from Will.  The indictment served as a result is one of the more powerful anti-war messages captured on film yet.
Foster is calculated but committed as Will.  Morton is natural and genuine as Olivia.  And the ensemble, as noted, is exceptional.  But there is a story somewhere in the lack of appreciation Woody Harrelson receives as an actor.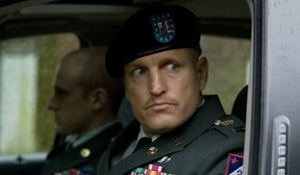 Having a bang-up year with another fine if slight performance in "Zombieland," Harrelson proves with "The Messenger" that he might be one of the unsung treasures of American acting.  He always seems to be pleasantly surprising us.
But perhaps the fact is that his consistency proves out his value.  Even in a film as dreadful as "Seven Pounds," he strikes easy, competent rhythms.  In something as well-honed as "The Messenger," he sparkles truer than ever.
"The Messenger" might be in danger of getting lost in the awards season shuffle.  A mid-November release date puts it in the middle of an unforgiving fray.  But it is one of the best films of a year slammed with quality filmed entertainment.