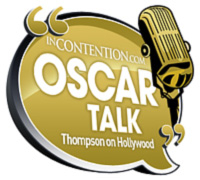 Welcome to the fifth installment of Oscar Talk between yours truly and Anne Thompson of indieWIRE's Thompson on Hollywood.
A somewhat streamlined show today.  Here's what's on the docket:
• Spit-balling host ideas for this year's Oscarcast, which seems to be a popular topic these days.
• Doing the same on a potential producer for the show.
• Our first fight!  Anne and I debate the merits of the leading actresses of this year's films.  Anne says it's a weak season, I say there are plenty of fine performances to choose from (and more on the way).
• With "An Education" opening in limited release today, we discuss Peter Sarsgaard's potential category fraud/confusion and debate the philosophies of what makes a performance a lead.
• A brief tease of a topic on next week's episode, Oren Moverman's "The Messenger," which I saw this week and Anne will catch up on before we chat again.
Have a listen to this week's podcast below (with a lead-in from the trailer for "An Education").  And as always, you can subscribe to Oscar Talk via iTunes here.
[display_podcast]