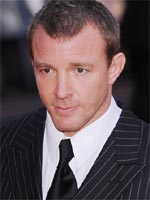 Cheers to my friend Paul for pointing me to the quote of the week from Guy Ritchie, featured in a recent Esquire interview. It's the same piece that has already attained a measure of press attention for his description of Madonna as "retarded," but this metaphor for his filmmaking oeuvre (handily condensed by the Guardian) is the real keeper:
"What you've got with marmalade is fucking bitter and sweet," Guy explains. "Now, the marmalade at [the place they had breakfast], that's an accessible marmalade. And my sensibility is accessible. My nature is, I like accessible shit. The first two accessible movies I made, Lock, Stock and Snatch, they are accessible.

The next two aren't accessible. First there's Swept Away, which, well, everyone gets confused on, because of Madonna. And the next one [Revolver] is just conceptual. That one – that's just pure esoteric marmalade. You can tell a lot by a person's marmalade. My palate is really a fine shred, it's accessible. I'm not saying I won't test you. Because all marmalade tests you."
No word yet on what type of marmalade "Sherlock Holmes" will be. Maybe he's switched to jam.