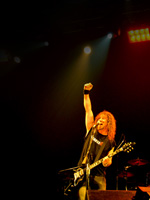 I finally got around to "Anvil! The Story of Anvil" this week and seem to have found myself in an instant minority.  Where so many see a moving tale of friendship, brotherhood and dedication, I saw a somewhat derivative and at times even inauthentic portrait that didn't elicit the proper interest in the subjects.
Sue me.  I'll give it another look at some point.
Anyway, that's neither here nor there.  What is of interest is that, as Pete Hammond reports, the film has the designation of being 2009's first screener sent to the 6,000-strong membership of the Academy.  "The Hurt Locker" was primed to be the first out of the gate but it never happened.
In recent years films such as "Once," "The Namesake," "Waitress," "Junebug" and "Frozen River" have been the first to hit members' doorsteps.  They landed four nominations between them, so jumping ahead early doesn't guarantee big awards success, but it doesn't hurt to hop onto people's radars early.  Regardless, "Anvil" isn't likely to show up anywhere outside of the documentary feature category.
And here we go…