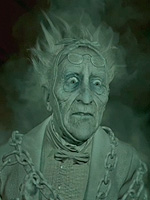 Yesterday we covered the animated feature film race and the potential for the category to have five nominees this year, largely dependent on Robert Zemeckis's "A Christmas Carol" being submitted as animation (a decision completely in his hands).  As it turns out, the film will indeed be submitted for consideration.
That, along with "Tinker Bell and the Lost Treasure" brings the tally up to 16 titles.  Some are expressing doubts that "Tinker Bell" can qualify, but I'm told the film "looks great, is made professionally, and will receive a theatrical run in LA, so those are the criteria."  Still, being right on the edge, this thing could go either way.
I'm still waiting on confirmation that the French film "A Town Called Panic" had a qualifying run or will have one (mass confusion), and ditto Summit's "Astro Boy," but that would be 17 and the absolute ceiling (by my calculation) on the number of submitted titles.
Assuming five nominees, here's what I'm thinking…
"Cloudy with a Chance of Meatballs" (Columbia Pictures)
"Coraline" (Focus Features)
"Ponyo" (Walt Disney Pictures)
"Fantastic Mr. Fox" (Fox Searchlight Pictures)
"Up" (Walt Disney Pictures)
I want to include Shane Acker's "9," which would seem like a no-brainer with five nominees.  But I'm struggling to find a place for it.  Maybe "Cloudy with a Chance of Meatballs" is weaker than I suspect (doubtful).  Disney could have a tough time getting two traditionally animated films in, so I'm putting "The Princess and the Frog" on the outside for now (which is so hard considering the esteem commanded by the filmmakers in the field).
Perhaps "Fantastic Mr. Fox" won't catch on (it's my #5) with the branch.  But I sincerely doubt Dreamworks will have much stroke with "Monsters vs. Aliens," so I guess those seven titles are the ones in the conversation.
We'll see how it plays out.  Check the Contenders section to view all comers.