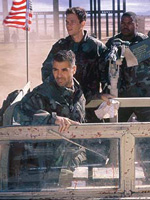 2009 has been a bit of a nostalgia point all year long because it marks 10 years removed from one of the finest years of cinema ever.  There has already been commentary regarding a number of 1999's releases.  We remembered the death of filmmaker Stanley Kubrick back in March and his final release, "Eyes Wide Shut," a few months later in July.
There was also our introductory installment of The Lists: a remembrance of the films of 1999 from last year, in case you missed it.  That covers a lot of my feelings of the movie year that was.
One film I look back on fondly is David O. Russell's "Three Kings." It was the beginning of the fall.  The film was in theaters along with another film I and a number of my film school friends wanted to see, something called "American Beauty" with Kevin Spacey.  We decided to make a double feature out of it and Russell was up first.
The film was a triumph.  It instantly became, in my view, one of the greatest war films ever made and, being a naive young Oscarwatcher, I felt like it was a sure thing for an original screenplay nomination if nothing else.  I wasn't as aware of AMPAS tendencies, so I can be forgiven.  But hey, it had a WGA nomination in tow, so I guess there was a chance.
I distinctly remember thinking the Beantown critics were pretty cool for giving it Best Film honors.  At the very least, the cinematographers could have tipped their hat to Newton Thomas Sigel's gripping work.  Oh well.
Anyway, I haven't seen "Three Kings" in a few years but it's a personal favorite and a fond memory from a solid year of cinema.  David Frank has penned a nice love letter to the film at Rope of Silicon, while Screen Rant has begun an all-encompassing 1999 retrospective that will surely include it.  Additionally, New York Times critic A.O. Scott has dedicated his latest installment of Critics' Picks to the film.