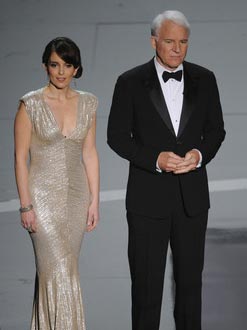 It seems the annual spitballing over who will/should host next year's Academy Awards ceremony has already started.
Sasha Stone has compiled a list of her own preferred men (and women) for the job, while Kris has other ideas. (More seriously, his Kevin Spacey suggestion last year remains one I'm completely on board with.) Meanwhile, Kris and Anne will spotlight the issue in tomorrow's edition of Oscar Talk.
For my part, I can't see a Hugh Jackman repeat working as effectively without Bill Condon and Laurence Mark's creative steering. (Besides, as game as he was, I missed the comedy a little.) And for all the championing of vogueish names from Neil Patrick Harris to Justin Timberlake — and as much as I actually appreciated Jon Stewart's efforts — I always find the night feels more comfortable with a genuine movie figure on stage.
So I can't be the only one thinking the Academy already auditioned the perfect candidates in February — in a segment that was, for this viewer anyway, the high point of the entire broadcast.
Steve Martin and Tina Fey represent an ideal compromise between the old guard and the new: one's a safe (and consistently funny) pair of hands who's done it before, the other's a current pop-culture behemoth whose star couldn't be brighter at the moment. One has a solid Hollywood grounding, the other would bring crossover interest from another medium. They're irreverent but not overly abrasive, cool but not overly of-the-moment. Perfect, in other words.
Finally, having a pair of hosts, rather than the one-man format we're used to, is the kind of gentle change that would generate interest in the telecast without ruffling too many feathers. And we know their chemistry pops. Check out the following video if you need reminding.